Kumudini Women's Medical College, Mirzapur, Bangladesh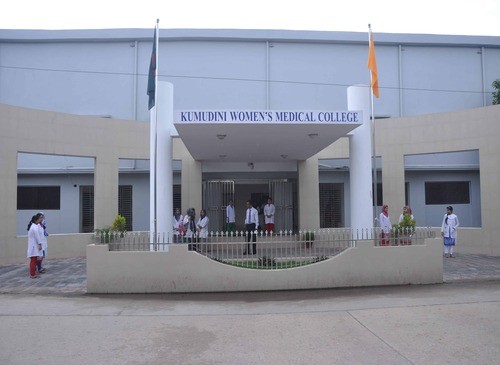 Rai Bahadur Ranada Prasad Shaha was a real son of this soil, a person extraordinaire, whose life's work and achievements are beyond comparison. Not only did he sacrifice his life for his beloved country but his legacy- Kumudini Welfare Trust of Bengal (KWT) – stands because the highest sort of philanthropy. The Trust was founded in June 1947 with the mission of providing exclusive service to the suffering humanity.
A great visionary, he was indeed concerned about the well-being of the poor and particularly the underprivileged women. He bequeathed all his wealth for the welfare of the less fortunate.
What prompted him to undertake this initiative was his childhood experience of his mother's death and his love for humanity. R P Shaha was born in 1896 to Debendra Kumar and Srimati Kumudini. He was only seven years old when his mother died a painful death from a tetanus infection.
Returning to Calcutta he took up trading in coal, starting with door-to-door coal supply and gradually progressed to larger supply orders. Thus a wealthy Ranada Prasad Shaha was born through sheer diligence and perseverance. In 1933 he became a shareholder during a joint river transportation business named "Bengal River Service".
Later on, he bought the firm. This was the core business of all his commercial ventures. By 1945, R P Shaha had already acquired the whole jute business of the Scottish firm George Henderson & Company at Narayanganj which was previously owned by an English firm named David & Company.
This great philanthropist was abducted along side his son Bhabani Prasad Shaha by the Pakistan Army and their collaborators on May 7, 1971, during the Liberation War.
They never returned. His spirit lives among his successors who are on the Board of Directors of the Trust. R P Shaha was the primary director succeeded by his daughter Joya Pati. His grandson Rajiv Prasad Shaha is that the present director of the Trust then the tradition goes on
About Kumudini Women's Medical College Campus
Kumudini Women's Medical College (KWMC) is a private medical college located in Mirzapur, Tangail, Bangladesh. The campus of KWMC is spread over a large area of land and is well-equipped with modern facilities to support the academic and clinical training of medical students.
The campus includes multiple buildings that house classrooms, laboratories, libraries, and administrative offices. The classrooms are spacious and well-lit, with modern audio-visual equipment to facilitate interactive teaching and learning. The laboratories are equipped with state-of-the-art equipment and materials to support practical training in various medical disciplines.
The campus also includes a hospital, Kumudini Women's Medical Hospital, which serves as a teaching hospital for KWMC's medical students. The hospital has a capacity of over 500 beds and is equipped with modern facilities, including an ICU, CCU, and emergency department. The hospital provides a range of medical services, including obstetrics and gynecology, pediatrics, internal medicine, surgery, and others.
Additionally, the campus has several amenities for students, including a cafeteria, sports facilities, and residential accommodation for students and faculty members. The residential accommodation includes separate hostels for male and female students with modern amenities to ensure a comfortable living environment.
The KWMC campus is well-designed and well-equipped to provide a conducive environment for academic and clinical training of medical students.
MBBS Admission in Kumudini Women's Medical College and Hospital
Kumudini Women's Medical College and Hospital (KWMC) is a well-known private medical college in Bangladesh that offers an MBBS program. The admission process for the MBBS program at KWMC typically begins in June or July of each year.
To be eligible for admission to KWMC's MBBS program, you must have completed your higher secondary education or equivalent with a minimum of 60% marks in Physics, Chemistry, and Biology (PCB) or a GPA of 3.5 in PCB. You must also have a minimum GPA of 3.5 in both SSC (Secondary School Certificate) and HSC (Higher Secondary Certificate) examinations or equivalent. Additionally, international students may be required to submit TOEFL or IELTS scores to demonstrate proficiency in English.
The admission process for the MBBS program at KWMC typically involves submitting an online application form, paying the application fee, and attending a written entrance exam. Shortlisted candidates will then be called for an interview before the final selection is made.
You can also contact Fortune Education Representative for assistance with your application and enrollment process.
(Online /Direct Admission & Seat Confirmation)
FOR ADMISSION AND OTHER QUARRIES, CONTACT:
Authorized Representative
HEAD OFFICE :
DHAKA, BANGLADESH.
MOBILE & WHATSAPP: +88-01995529533
---
OFFICES IN INDIA:
MOBILE & WHATSAPP:  +91-9903355537
WEST BENGAL, MODON MOHON STREET, KOLKATA,
PATNA, BIHAR, DELHI, JAMMU & KASMIR,
HYDERABAD, LUCKNOW, CHENNAI, AND GUWAHATI.