IBN SINA Medical College | Fortune Education Bangladesh
IBN SINA Medical College | Fortune Education Bangladesh
IBN SINA Medical College, Affiliated with the University of Dhaka, Largest Medical College. Largest Hospital High Patient Flow. Top Reputed Medical College, Modern Campus Heart of Capital City, In Campus Own Hostel & Library in Ibn Sina Medical College.
FOR ADMISSION/SEAT CONFIRMATION & OTHERS PROCESSING AT IBN SINA MEDICAL COLLEGE, CONTACT: FORTUNE EDUCATION, EXCLUSIVE AUTHORIZED REPRESENTATIVE, DHAKA, BANGLADESH- +8801995529533, INDIA: +919903355537
IBN SINA MEDICAL COLLEGE
The academic activities of Ibn Sina Medical College commenced through the admission of 50 students in 2004-05 academic session. Through the years up to 2017, 13 batches of total 759 students undertook the course.
The college is affiliated with the University of Dhaka and recognized by Bangladesh Medical & Dental Council, the competent Authority of the Ministry of Health and Family Welfare.
The students of the 8th batch are now starting their internship in our own Hospital. The admission procedure of Session 2023-2024 is now online.
The admission is based on merit keeping in conformity with Government Order published and adopted by the Academic Council and adorned by the Governing Body of ISMC.
OBJECTIVES
1. To produce a doctor with high professional knowledge and skill.
2. To blend them with ethical values.
3. To teach bio-medical sciences with its recent advancements so that they can meet the present-day health care needs and challenges.
4. To produce a disciplined, motivated and enthusiastic doctor to instill the highest level of efficiency for caring patient with compassion and competence.
5. To provide wide knowledge of the community and economic conditions of the country imbuing them in value and nation to improve it applying professional antiquated, manners, and skills.
6. To inspire the development of essential human qualities, the strong sense of righteousness and basic ability to serve the suffering humanities irrespective of the economy, cast, religion, and strata.
SCOPE FOR FOREIGN STUDENTS
IBN SINA MEDICAL COLLEGE is now ready to receive foreign students for MBBS course, foreign students have to process through Embassy proceeding with the equivalence of their 0 & A Level from DGHS.
We have safe and secure accommodation facilities for foreign students.
FOREIGN
STUDENTS'

ADMISSION PROCEDURE IN IBN SINA MEDICAL COLLEGE

Ibn Sina medical college is now ready to receive foreign students for MBBS course. Foreign students have to apply according to rule and through the embassy of the respective country. Students will have to collect equivalence certificate of S.S.C. (Class X) and H.S.C. (Class XII) from Director General of Health Services, Governments of the People's Republic of Bangladesh.
FEES FOR FOREIGN STUDENTS IN IBN SINA MEDICAL COLLEGE
Total Fees for MBBS Course (5 years Duration) is USD 58,000
Contact Fortune Education at +880 1995529533 for Fees Details
The University examination fees are separate. During which 5 years total Four University Professional examination will be held and approximately fees, Food & others personal expenses are excluded.
REQUIREMENTS FOR LOCAL STUDENTS IN IBN SINA MEDICAL COLLEGE
Students passing in S.S.C 2020-2021 or after H.S.C 2022-2023 Session with total GPA of 9 but minimum GPA 3.5 in the biology of HSC are eligible to appear for admission 2023-2024 session.
Fortune Education

Secure Your MBBS Admission in Bangladesh with Fortune Education
Are you an aspiring medical student seeking a reputable institution for MBBS in Bangladesh? Look no further than Fortune Education, your trusted ally in navigating the challenging journey of securing admission to a recognized medical college in Bangladesh.
With a stellar track record, Fortune Education has been consistently guiding students toward successful medical careers in Bangladesh.
Start your Journey with Fortune Education
At Fortune Education, we understand that the journey to becoming a medical professional can be daunting, especially when crossing borders for education. Our mission is to help aspiring medical students like you fulfill their dreams of pursuing an MBBS in Bangladesh by providing comprehensive information, guidance, and support.
From understanding the admission process to acclimating to a new cultural environment, we make sure you are prepared for every step. As a leading educational consultancy, we help students secure admission in some of the top medical colleges in Bangladesh, making us your best bet for achieving your academic goals.
Reliable Support and Guidance
With Fortune Education, you are not alone in this journey. Our knowledgeable consultants are dedicated to helping students understand the intricate details of the MBBS admission process in Bangladesh. We extend our support beyond mere admissions, assisting with the student visa application process, providing information on accommodation facilities, and much more.
Access Comprehensive MBBS Information on MBBSBD
In addition to the assistance provided by Fortune Education, prospective students can access comprehensive information on MBBS in Bangladesh on MBBSBD, a platform dedicated to providing accurate, up-to-date information on various aspects of medical education in Bangladesh.
MBBSBD serves as a one-stop resource for information related to MBBS admission in Bangladesh. It provides an insight into eligibility criteria, admission processes, top medical colleges, and the latest news and updates. It also offers a comparative analysis of medical education in Bangladesh with other countries, enabling students to make an informed decision.
Securing a Bright Future
Joining hands with Fortune Education not only ensures you a smoother path towards MBBS admission in Bangladesh but also opens doors to a bright future in the medical field. Our association with premier medical colleges across Bangladesh, combined with an unwavering commitment to our students' success, sets us apart.
Take the first step toward your dream career today. Visit Fortune Education for more information. Together, we can help you secure a prosperous medical career in Bangladesh.
(Please note, this is a fictitious content and any resemblance to real individuals, businesses, or websites is purely coincidental. Please ensure to seek approval from relevant authorities before publishing or linking to any websites.)
Fortune Education, we prioritize transparency in our operations and services. We ensure that all our students are informed about the detailed breakdown of the total cost involved, including admission fees, tuition fees, hostel charges, and other miscellaneous costs.
We firmly believe that informed students can make better decisions, and our team tirelessly works to provide them with all the necessary details.
Islami Bank Medical College
Islami Bank Medical College: Bridging Islamic Values with Medical Excellence
In the heart of the nation lies a beacon of medical learning that not only focuses on academic brilliance but also intertwines it beautifully with Islamic principles – Islami Bank Medical College (IBMC). At IBMC, we believe in shaping the future of healthcare by producing competent, ethically grounded medical professionals dedicated to serving humanity. This unique blend of traditional medical knowledge with Islamic values sets IBMC apart in the world of medical education.
Diverse Departments & Stellar Faculties
Our medical college is home to various departments, spanning the entire breadth of medical science. From the core basics like Anatomy, Physiology, and Biochemistry to advanced clinical sciences including Medicine, Surgery, Obstetrics & Gynecology, and Pediatrics, we've got it all. For those seeking to specialize further, our super specialities in Cardiology, Neurology, and Urology are the ideal choice.
What drives these departments towards excellence? Our esteemed faculty. At IBMC, we pride ourselves on having a panel of experienced, dedicated, and ethically committed educators who not only impart knowledge but also mentor and guide our students, shaping them into responsible medical practitioners.
Holistic Academic Programs Tailored for Excellence
The medical journey at IBMC begins with our highly sought-after MBBS Program. Meticulously designed to ensure a comprehensive grasp of medical knowledge, this program seamlessly merges theory, practicals, and on-ground hospital experience. Our students are not just limited to classroom learning; they get invaluable hands-on experience at the renowned Islami Bank Hospital, ensuring they're ready for real-world challenges.
For those aspiring for higher medical studies, our Postgraduate Medical Programs provide an array of specializations. These advanced courses are structured keeping in mind the evolving needs of the medical industry, ensuring our students remain at the forefront of medical advancements.
Modern Facilities Meeting Islamic Principles
Our commitment to excellence is evident in our state-of-the-art facilities. The expansive library, stocked with the latest medical journals and e-resources, is a haven for our students. Modern laboratories equipped with the latest technology ensure that practical learning is never compromised.
Yet, amidst this modernity, our roots remain firmly grounded in Islamic values. From the way our curriculum is designed to the architecture of our college and hostels, every aspect reflects the harmony of contemporary knowledge with Islamic teachings.
Research, Development, and Islamic Medical Ethics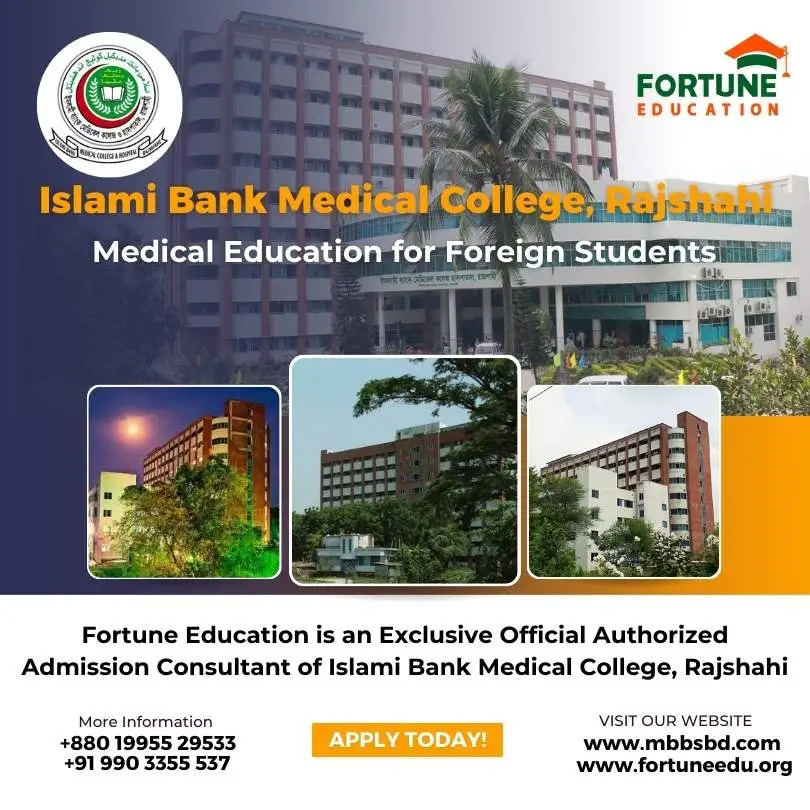 Research is the backbone of medical advancements, and at IBMC, we understand its significance. Our ongoing research projects, many of which have been published in esteemed journals, bear testimony to our dedication towards pushing the boundaries of medical science. Our collaborations with national and international institutions further enhance our research capabilities, providing our students with a global perspective.
However, medical science is not just about treating the body; it's also about understanding the soul. Our unique curriculum on Islamic medical ethics ensures that our graduates don't just become doctors, but healers in the true sense. Regular workshops and seminars reinforce the importance of patient care combined with Islamic values, ensuring a holistic approach to medicine.
Join the Legacy of IBMC
With an array of student activities, from the dynamic Islamic Medical Students Association to community service initiatives and medical camps, life at IBMC is a blend of learning, service, and spiritual growth.
For prospective students keen on joining our esteemed institution, the admissions section provides detailed insights into the application process, eligibility criteria, and more. Don't miss the testimonials from our proud graduates, reflecting their enriching journey at IBMC.
Strong Network with Top Medical Colleges
Fortune Education has built strong relationships with some of the top MCI/NMC recognized medical colleges in Bangladesh. We regularly update our information to reflect changes in admission requirements, course structures, fees, and other relevant details. Our well-established network and close associations with these institutions make the admission process seamless and efficient.
Exclusive Insights with MBBSBD
To further support our mission, our partner platform MBBSBD provides an extensive database on various aspects of medical education in Bangladesh. Be it the latest updates in syllabus or changes in the NEET requirements, MBBSBD is your go-to source for all information related to MBBS in Bangladesh.
MBBSBD also offers an exclusive look into life as a medical student in Bangladesh, covering accommodation facilities, hostel life, campus environment, and cultural experiences. This can help prospective students prepare for their upcoming journey.
Aftercare and Continuous Support
Our commitment to students does not end with securing admission. Fortune Education remains a constant support system even after you've embarked on your medical journey. From providing post-admission services to assisting with internship placements, we are dedicated to ensuring that our students receive the best possible opportunities.
Your Dream Career is a Click Away
Embarking on the journey to becoming a medical professional is a significant decision. With Fortune Education and MBBSBD, you can take this leap of faith confidently, knowing you have a reliable partner every step of the way.
Remember, the journey of a thousand miles begins with a single step. Take that step now. Start exploring your options for MBBS in Bangladesh and let Fortune Education guide you towards a bright and successful medical career.
Fortune Education
Pioneer & Leading Authorized Representative of Medical Colleges in Bangladesh & Abroad
Head Office: 23/C, Zigatola, Dhaka-1209, Bangladesh

Bangladesh: +8801995529533
India: +919903355537
Email: fortunebangladesh@gmail.com
Website: www.fortuneedu.org , www.mbbsbd.com

Army Medical College, Bogra (AMCB) has started its journey on 28 Sep 2014 after getting the necessary approval from Government. Within a time span of 3 and a ½ months the present infrastructural development was completed and the inauguration ceremony was held on 10 Jan 2015
along with four other Army Medical Colleges and began its academic year 2014-2015 with the active inspiration of Honorable Prime Minister Sheikh Hasina, the then Chief of Staff Bangladesh Army Gen Iqbal Karim Bhuiyan, Maj Gen AKM Abdullahil Baquee, ndu, psc, Area Commander Bogra Area, Chairman, Governing Body of Army Medical College Bogra and all the Doctors and Staffs working in Army Medical College Bogura.
On 11 Jan 2015, the college started conducting the class of 2014-2015 session with 50 students.Army Medical College Bogra is a private Medical College under the control of the Bangladesh Army and is run by a Governing Body, duly formed by the representative of Bangladesh Army, a representative from the Ministry of Health and Family Affairs, a representative from Bangladesh University of Professionals (BUP) and local members in the health sector of Bangladesh government.