Chittagong Marine City Medical College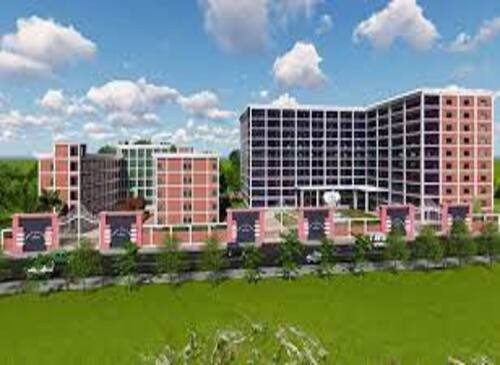 About Us
Marine City Medical College is a non-government Medical College situated in Chattogram, Bangladesh. It was established in 2013 by a group of dedicated people who were involved with ideals at providing quality Medical Education, research, and services to people of this country at a reasonable cost.
It is situated at 1101/2127, Chandra Nagar, East Nasirabad, Bayazid Bostami in Chattogram. Government alone cannot provide a higher health care facility with a Medical College in this Country. So the private sectors should come forward to collaborate with Government and proceed to increase the number and quality of health service facilities and health manpower as a joint venture.
Our endeavor is to reach to attain the level of health care close to the regional and international standards. We strongly believe that within a short time Marine City Medical College Hospital will become an attractive study point in Medical Profession not only for natives but also for foreign students.
Recognitions of Marine City Medical College
Marine City Medical College is affiliated with Chittagong Medical University & Chittagong University. This Medical College is recognized by the Ministry of Health and Family Welfare & Bangladesh Medical & Dental Council (BM&DC).
Marine City has its own academic infrastructure that is utilized for the teaching-learning activities of Medical students as well as providing curative, preventive, primitive, and rehabilitative health care services to the people. The standard of the MBBS program and quality of health care is ensured by research studies and evaluation.
The regular activities of the college are executed by weekly seminars, monthly faculty development workshops and conduction of resource activities for academic development is a matter of pride of this institution.
Marine City has excellent, experienced, and dedicated faculty members who are all trained in advanced level teaching technologies. The College has state of art, tertiary care, multispecialty teaching hospital with all the modern diagnostic and therapeutic facilities.
The College has spacious, well-equipped laboratories, lecture halls with modern audio-visual aids, multimedia projectors, etc. It provides excellent library facilities with reference books, national and international journals, CDs, DVDs, etc to help the students with a balanced learning environment.
LOCATION
Marine City Medical College is situated at, Chandra Nagar, East Nasirabad, Bayazid Bostami in Chattogram, Bangladesh.
Faculty
Anatomy 

Physiology 

Biochemistry 

Community Medicine 

Forensic Medicine 

Pathology 

Microbiology 

Pharmacology 

Medicine 

Surgery 

Gynae & Obsteteics 

Pediatrics 

Dentistry
FOREIGN STUDENTS
The interested applicants must fulfill the following criteria of eligibility for admission:
Applicants must have passed qualifying examinations i.e. 12th grade (10+2=12 years) of schooling at a public school/ board/ college or passed an examination in any foreign country which is recognized by the Government of Bangladesh as equivalent to the Higher Secondary Certificate Examination.

Applicants must have passed Higher Secondary Certificate Examination or equivalent examinations with Physics, Chemistry, and Biology as their major/ compulsory subjects.

Applicants must have obtained at least 75% marks in average (which is equivalent to GPA 4.0 or equivalent grade in Secondary School Certificate and Higher Secondary Certificate examinations or in equivalent examinations respectively (i.e. 'B' grade in A-level or O-level examination) and should have at least 65% marks separately in either of these examinations (i.e. GPA 3.50 or 'C' grade). In the case of O-level examination marks grades of only six subjects (top 6 subjects on the basis of marks/ grades obtained) will be considered. In the case of the A-level examination, marks/grades of Physics, Chemistry, and Biology will be considered for evaluation.

All academic certificates must be transferred to Bangladesh standard (through a collection of Equivalence Certificate from

DGHS

Dhaka, Bangladesh) & Student Visa formalities through the embassy of Bangladesh.

Students must be submitted their qualifying certificate from his/her country.

The application should be submitted to Marine City Medical College prescribed forms. Attested copies of certificates and mark sheets etc. have to be furnished along with the application. All certificates and mark sheets must be attested by the Ministry of Foreign Affairs of the respective country of the applicant's academic institution. No application will be accepted without such attestation.

The successful applicants will require to produce all academic certificates and mark sheets in original during their admission.

 Financial solvency documents must be submitted with the application form.
INTERNATIONAL STUDENT FEES
The fees structure is as follows for sessions 2023-24.
Total Fee For this College US $36,000.00
In words: USD Thirty Four Thousand only.
Campus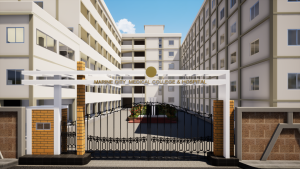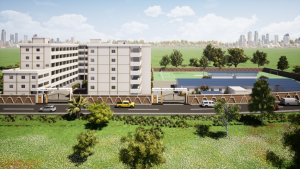 About
Chattogram
Chittagong is a major coastal city and financial center in southeastern Bangladesh. The city had a population of more than 8.7 million in 2017, making it the second-largest city in the country. It is the capital and administrative seat of an eponymous District and Division. The city is located on the banks of the Karnaphuli River between the Chittagong Hill Tracts and the Bay of Bengal. Modern Chittagong is Bangladesh's second most significant urban center after Dhaka.
Chittagong plays a vital role in the Bangladeshi economy. The Port of Chittagong, one of the world's oldest ports, whose coast appeared on Ptolemy's world map, is the principal maritime gateway to the country.
The port is the busiest international seaport on the Bay of Bengal and the third busiest in South Asia. The Chittagong Stock Exchange is one of the country's two stock markets. Several Chittagong-based companies are among the largest industrial conglomerates and enterprises in Bangladesh.
The port city is the largest base of the Bangladesh Navy and Bangladesh Coast Guard; while the Bangladesh Army and Bangladesh Air Force also maintain bases and contribute to the city's economy. Chittagong is the headquarters of the Eastern Zone of the Bangladesh Railway, has historically been the headquarters of British India's Assam Bengal Railway and East Pakistan's Pakistan Eastern Railway. A ship-breaking industry on the outskirts of the city supplies local steel.
Chittagong is an ancient seaport due to its natural harbor. It was noted as one of the largest Eastern ports by the Roman geographer Ptolemy in the 1st century.
The harbor has been a gateway through southeastern Bengal in the Indian subcontinent for centuries. Arab sailors and traders, who once explored the Bay of Bengal, set up a mercantile station in the harbor during the 9th century. During the 14th century, the port became a "mint town" of the Sultanate of Bengal, with the status of an administrative center.
Contact Fortune Education For Admission quarry, Fees, Scholarship and other Facilities Call or Whatsapp: +880 1995529533 +91 9903355537
Fortune Education, Dhaka, Bangladesh is World Leading & Pioneer Education Consultant of Medical colleges & universities. Providing MBBS, BDS, BVSc admission for medical aspirants & prospective students who are interested to study MBBS, BDS, BVSc and considering higher study opportunities in Bangladesh and overseas.
Fortune Education have legal rights to process admission to Medical, Dental college and universities all over the world. We offer MBBS, BDS & others Admission, Application, Guidance, Documentation, and required services such as to eligible students regarding medical and higher studies…
Fortune Education invites students to register for MBBS & BDS admission with a special Scholarship for the academic year 2023-24.
[elementor-template id="5736″]