Diabetic Association Medical College Fees Structure
Diabetic Association Medical College Fees Structure
The Diabetic Association Medical College started its journey on the 15th of November 2009 and opened its doors to the students in the academic year 2009-2010.
Contact Fortune Education For Admission quarry, Fees, Scholarship and other Facilities Call or WhatsApp: +880 1995529533, +91 9903355537
This College is an institution of the Faridpur Diabetic Association (FDA). This medical college is established by Faridpur Diabetic Association Trust and is run by a Governing Body. It is mentionable that Faridpur Diabetic Association is the 2nd member of the "International Diabetes Federation" from Bangladesh since 2009. This Medical College is affiliated with the University of Dhaka and recognized by Bangladesh Medical & Dental Council (BM&DC) and Approved by the Ministry of Health and Family Welfare and Enlisted in the World Directory of Medical Schools (WHO).
Diabetic Association Medical College Recognition
Now the Medical degrees obtained from this medical college are acceptable to the provincial/territorial medical regulatory authorities in Canada and therefore acceptable to all medical organizations in Canada. Students and graduates of this medical college are eligible to apply to ECFMG (Educational Commission for Foreign Medical Graduates) for ECFMG certification in the USA.
The College follows the course curriculum of the MBBS course as laid down by Dhaka University and Bangladesh Medical and Dental Council. The government of Bangladesh regulates the criteria of admission in 1st-year MBBS course and Dhaka University conducts the professional examinations and awards certificates of MBBS degree. The Diabetic Association Medical College Hospital (DAMCH) is attached herewith as the teaching hospital which is a tertiary care hospital established in the year 1985 and delivering clinical services in almost all departments of medical science.
Location
The Diabetic Association Medical College and Hospital is located in a quiet and serene environment in the heart of Faridpur city at Masjid Bari Sarok, Jheeltuly with all modern amenities. Since its establishment in the year 2009, Diabetic Association Medical College, Faridpur has come a long way in last the years and achieved a great reputation amongst the non-government medical colleges in the country.
We have adequate qualified teaching staff and modern teaching aids like computers, multimedia, and overhead projectors for effective delivery of lectures. This medical college has a full-fledged library with sufficient text and reference books and journals. The library has high speed internet facilities with HINARI access. Our vision is to lead this institution into a Centre of Excellence for medical education, training, and service.
HISTORICAL OUTLINE
1983 – 2009 (Year of Seeding& Structural Development) On 25 November 1983, Dr Mohammad Zahed with some other social workers established Faridpur Diabetic Association, the mother organization of this medical college. On 01 August 1985, Faridpur Diabetic Association launched a Diabetic test of the patients. On 25 November 1985, Faridpur Diabetic Association got the affiliation of Diabetic Association of Bangladesh (BADAS).
About Faridpur City
The Faridpur District was established by the British in 1815. The Faridpur Subdivision was a part of the Dacca Division in the Bengal Presidency established by the East India Company. The municipality of Faridpur was established in 1869. The subdivision covered modern-day Faridpur, Rajbari, Madaripur, Shariatpur and Gopalganj districts (collectively known as Greater Faridpur). It was included in Eastern Bengal and Assam during the British Raj between 1905 and 1912. Faridpur was a rail terminus for the Bengal Provincial Railway and the Eastern Bengal Railway, connecting Calcutta with the important Goalanda ghats, from where ships travelled to Colonial Assam and British Burma.
British Faridpur was the birthplace of several nationalist leaders of the subcontinent, including Ambica Charan Mazumdar, Humayun Kabir, Maulvi Tamizuddin Khan and Sheikh Mujibur Rahman. The acclaimed American engineer Fazlur Rahman Khan was also born in the region. Faridpur saw intense fighting during the Bangladesh Liberation War in 1971. It was one of the original 18 subdivisions of Bangladesh at the time of independence. In 1984, the devolution reforms of President Hussain Muhammad Ershad divided the old subdivision into five districts. In 2015, the Government of Bangladesh announced plans to establish a Faridpur Division.
HOSTEL
There are separate hostels for male and female students with excellent accommodation facilities for the foreign students. There are also two teachers' hostels.
Diabetic Association Medical College Fees Structure
The fees payable for admission has been fixed at USD 40,000(forty thousand US Dollar only).
One may pay the fees by instalment where the payment schedule.
ALL FEES ARE NON-REFUNDABLE
Note: If any student doesn't perform their internship training during this institute (MCWH) she is going to get a refund of USD 2170. the entire amount then to be paid USD (40,000-2170) = USD 37830. Note: Foreign Student Agent Consultancy generally fee USD 3000.
Hostel accommodation fee per annum approximately: US$ 800.00
More Information
At the time of admission, all students will need to pay a minimum of 1 (01) year hostel seat rent beforehand, if they desire to measure during a hostel. Hostel accommodation fees are the same as area students for one year. All students will clear their hostel seat rent before appearing within the 1st, 2nd, 3rd & Final professional MBBS examination.
If they fail within the Final Professional MBBS Examination, they're going to need to pay US$ 800.00 (Eight hundred US Dollars) for every attempt altogether subjects and US$ 267.00 for every subject. All students will clear their tuition & other fees to continue their regular courses. All students need to pay the other charges which can be imposed by the concerned authority associated with the MBBS course, like RFST, study tour, autopsy visit, etc.
Laboratories of Diabetic Association Medical College
There are 9 (nine) laboratories of pre-clinical departments in the college and 4 (four) clinical laboratories in the hospital. All laboratories are enriched by modern equipment and teaching aids.
MUSEUM
Department of Anatomy, Pathology and Community Medicine have separate well-organized museums with a good collection of models, charts, viscera, and specimens. There is a museum in the Department of Forensic Medicine to display medico-legal specimens like weapons, poisons, models, skeletons, etc.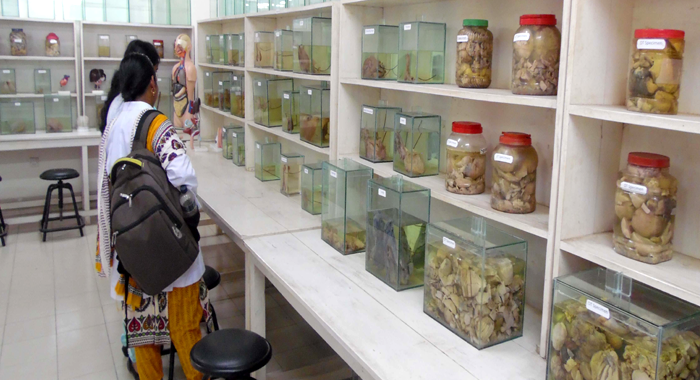 GALLERY
The college has four air-conditioned lecture halls with a very good sound system and all kinds of multimedia, audio-visual accessories, and all modern teaching equipment.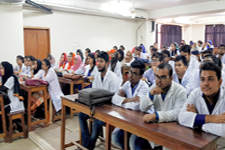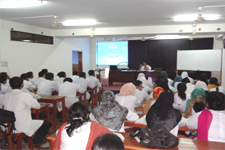 CANTEEN
We have a neat and clean canteen on the third floor of the academic building to serve nutritious and pure food to the students, teachers, and staff.
GAMES & SPORTS
There are isolated boys and girls common rooms equipped with carom board, table tennis, etc. Faridpur District Stadium and Govt. Rajendra College Playground is used regularly for outdoor games. The college authority organizes annual sports competitions for students, teachers, and staff.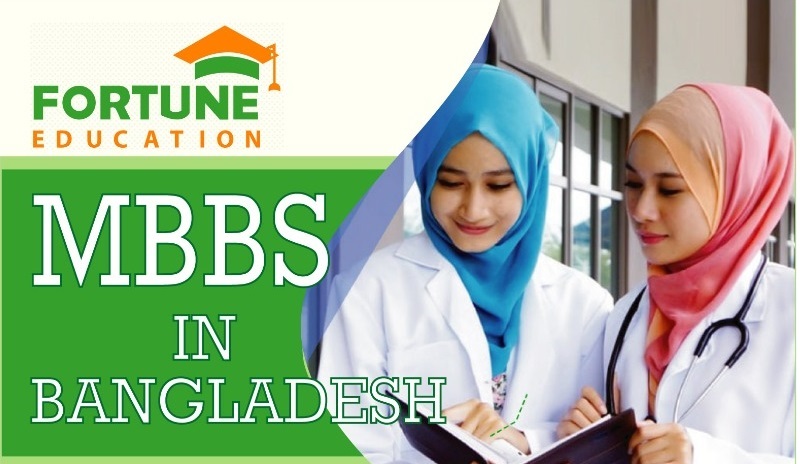 A Student has to bear the cost of food of his own. A student also has to pay the University Examination fees to the University of Dhaka for each professional examination and the Study Tour fee at the 3rd year of the MBBS course. If a student fails to complete the MBBS course within 5 (five) years, then he has to pay tuition & accommodation fees monthly at the rate of that time up to the completion of the course. There is absolutely no other additional or hidden cost.
ADMISSION PROCESS OF DIABETIC ASSOCIATION MEDICAL COLLEGE:
Eligibility certificate from Medical Council.

Certified copy (English Translated) of the marks/grade sheet of the qualifying examination.

Certified copy of the grade equivalence to marks by Boards/schools.

Copy of Passport.

Proof of NRI status of the student/parents/sponsor.

Nationality Certificate.

04(four) copies of recent Passport size and 3(three) copies of stamp size Photograph.

All-Academic Certificates and Mark Sheets.

Equivalence & Eligibility certificates from the Director-General of Health Education (DGHE), Government of the People's Republic Bangladesh.

The Passport with 'student' type VISA.

NOC / Release Letter.
DIABETIC ASSOCIATION MEDICAL COLLEGE AND HOSPITAL
multi-disciplinary medical facilities. It is also a full-fledged general hospital. – The Hospital has been providing services to both diabetic & non-diabetic around 3000 outdoor patients per day on average. Bed occupancy is around 75%. – 30% of poor patients are treated free of cost. – We are committed to providing the best services for diabetic & non-diabetic patients with sophisticated modern machinery, qualified & skilled manpower at possible minimum cost from Diabetic Association Medical College Hospital.
SERVICE DEPARTMENTS (EMERGENCY, OUTDOOR & INDOOR)
Medicine

Neonatology & Paediatric

Skin & Venereal Diseases

Cardiology with C.C.U

Endocrinology & Diabetology

Respiratory Medicine

Nephrology with Haemodialysis

Neurology

Blood Transfusion

Surgery

Orthopaedic Surgery

E.N.T. & Head Neck Surgery

Ophthalmology

Urology

Radiology & Imaging

Radiotherapy & Oncology

Anaesthesiology

Dentistry

Obstetrics & Gynaecology

Physiotherapy

Foot Care

Food & Nutrition

Social Welfare

Pharmacy

Ambulance

Blood Bank

Mortuary
KIDNEY DIALYSIS UNIT:
Disorders of the Kidneys and Urinary tract are well attended. TURP and other surgical interventions were done in the Urology unit. The nephrology unit is equipped with 23 Haemodialysis machines for dialysis as life support for kidney patients. On 14th April 2010, this unit started functioning with the donation of 1 machine by son's of Alhaj Adbul Karim Mia. 4 machines were collected from the Ministry of Social Welfare. 1 machine was donated by the late Chowdhury Sabbir Yousuf, the former vice president of Faridpur Diabetic Association. The unit was overcrowded with kidney patients for dialysis.
Our president Mr Mir Nasir Hossain to overcome the situation donated 2 Haemodialysis machines, one of which is dedicated to serving the patient free of cost. National Bank Ltd. donated another 1 machine. Dutch-Bangla Bank Ltd. donated 13 Haemodialysis machines. By now we have a total of 23 Haemodialysis machines.
DIAGNOSTIC SERVICES :
Department of Radiology & Imaging
 CT Scan

 X-ray (Digital)

 O.P.G

 Mammography

 4-D Ultra sonogram
Department of Biochemistry
Automated Clinical Chemistry Analyzer

Electrolyte Analyzer
Department of Microbiology
Department of Clinical Pathology
Department of Histopathology & Cytology
 Department of Immunology
Department of Haematology
Haematology Analyzer

Blood cell Counter
Department of Cardiology
Color Doppler

E.T.T

Echo Cardiogram
Department of Neurology
Department of Gastroenterology
CARDIOLOGY UNIT:
The Hospital has a reputed 80 bed cardiac unit with CCU to manage and treat cardiac patients. The cardiology unit needs to continue its upward trend in clinical activities as well as introduce advanced latest facilities. We hope to install Cath-Lab in near future.
Location of Diabetic Association Medical College
The town of Fatehabad was located by a stream known as the Dead Padma, which was 32 kilometres (20 miles) from the main channel of the Padma River. Sultan Jalaluddin Muhammad Shah established a mint in Fatehabad during his reign in the early 15th century. Fatehabad continued to be a mint town of the Bengal Sultanate until 1538. In Ain-i-Akbari, it was named Haweli Mahal Fatehabad during the reign of Emperor Akbar in the Mughal Empire. The Portuguese cartographer João de Barros mentioned it as Fatiabas. The Dutch map of Van den Brock described it as Fathur.
Fortune Education, Dhaka, Bangladesh is World Leading & Pioneer Education Consultant of Medical Colleges & Universities. Providing MBBS, BDS, BVSc admission for medical aspirants & prospective students who are interested to study MBBS, BDS, BVSc and considering higher study opportunities in Bangladesh and overseas.
Fortune Education has legal rights to process admission to Medical, Dental colleges and universities all over the world. We offer MBBS, BDS & others Admission, Application, Guidance, Documentation, and required services such as to eligible students regarding medical and higher studies…
Fortune Education invites students to register for MBBS & BDS admission with a special Scholarship for International students.
Best Medical Colleges in Bangladesh with Fortune Education
Army Medical College Jeshore
Army Medical College Bogura
Diabetic Association Medical College
Sylhet Women's Medical College
Islami Bank Medical College
International Medical College
Marks Medical College
Popular Medical College
Ahsania Mission Medical College
Brahmanbaria Medical College
IBN SINA Medical College
Fortune Education, Dhaka, Bangladesh is authorized representative of Medical College & Universities and the pioneer leading Education Consultant for  medical aspirants & prospective students who interested to study MBBS, BDS , BVSc and considering higher study opportunities in Bangladesh and overseas.
Fortune Education have legal rights to processing admission to Medical, Dental college and universities all over the world. We offer MBBS, BDS & others Admission, Application, Guidance, Documentation, and required services such as to eligible students regarding medical and higher studies…
Fortune Education, located in Dhaka, Bangladesh, is a renowned and recognized medical admission consultant that specializes in facilitating online direct MBBS admissions in reputed medical colleges abroad. With its expertise and vast network of partner institutions, Fortune Education assists students in pursuing their dream of studying medicine in esteemed universities around the world. Here are some details about Fortune Education and the services they offer:
Comprehensive Guidance: Fortune Education provides comprehensive guidance to students seeking admission to medical colleges abroad. They understand the complexities of the admission process and help students navigate through the various requirements and procedures. From selecting suitable universities to preparing and submitting applications, Fortune Education ensures a smooth and hassle-free admission experience for students.
Extensive Network of Partner Institutions: Fortune Education has established strong relationships with reputed medical colleges and universities across several countries. They collaborate with these institutions to offer a wide range of options to students, ensuring that they find the best-fit program and university to match their academic and career aspirations.
Direct Admission Process: Fortune Education specializes in facilitating direct admissions for students. Through their online admission services, students can directly apply to their preferred medical colleges without the need for any intermediary agents. This transparent and streamlined process eliminates unnecessary delays and simplifies the application process.
Reputed Medical Colleges: Fortune Education collaborates with highly regarded medical colleges and universities abroad. These institutions are recognized by the respective country's medical councils and have a strong reputation for delivering quality medical education. They provide state-of-the-art facilities, experienced faculty, and a conducive learning environment, ensuring that students receive a top-notch education.
Online Application Assistance: Fortune Education offers comprehensive support throughout the application process. They assist students in preparing all necessary documents, including academic transcripts, letters of recommendation, personal statements, and other required paperwork. Their experienced team ensures that applications are complete, accurate, and submitted within the specified deadlines.
Visa Assistance: Obtaining a student visa is a critical step in studying abroad.
Fortune Education provides guidance and assistance in the visa application process. They help students understand the visa requirements, compile the necessary documentation, and prepare for visa interviews. Their expertise and support increase the chances of a successful visa application.
Financial Guidance: Fortune Education understands the financial considerations associated with studying abroad. They provide valuable information about the cost of education, scholarships, and available funding options. They guide students in making informed decisions regarding financing their education and help them explore scholarships and financial aid opportunities.
Post-Admission Support: Once students secure admission to their chosen medical colleges, Fortune Education continues to offer support and assistance. They help students with pre-departure preparations, including travel arrangements, accommodation options, and orientation about the destination country.
Their ongoing support ensures a smooth transition for students to their new academic environment.
Personalized Counseling: Fortune Education believes in personalized counseling to understand each student's unique requirements and aspirations. They provide individualized guidance, address students' concerns, and offer tailored solutions to ensure that students make well-informed decisions about their education and future career in medicine.
Fortune Education, as a recognized medical admission consultant, offers online direct MBBS admissions in reputed medical colleges abroad. With their expertise, extensive network, and comprehensive support services, they assist students in fulfilling their dreams of studying medicine and embarking on a successful medical career.
Online /Direct Admission & Seat Confirmation
Head Office:
23/C, Zigatola, Dhaka, Bangladesh.
Mobile & WhatsApp: +88-01995529533
Offices IN India:
Mobile & WhatsApp: +91-9903355537
[elementor-template id="5736″]