MBBS Admission Eligibility Criteria
MBBS Admission Eligibility Criteria
MBBS Admission Eligibility Criteria for Bangladesh 2023-24
If you are considering pursuing MBBS in Bangladesh for the academic session 2023-24, it is crucial to understand the eligibility criteria set by the medical universities. Meeting these requirements is essential to secure admission. The following are the general eligibility criteria for MBBS admission in Bangladesh:
Academic Qualifications: Applicants must have completed their higher secondary education or equivalent with a science background (Physics, Chemistry, and Biology) from a recognized board or institution. The academic qualifications should be at par with the requirements set by the respective medical universities.
Minimum Aggregate Score: Most medical universities in Bangladesh require a minimum aggregate score in the science subjects (Physics, Chemistry, and Biology) in the higher secondary examination. The specific minimum score may vary among universities. It is important to check the minimum aggregate score required by the universities you are interested in.
NEET-UG Qualification (for Indian Students): For Indian students seeking admission to medical universities in Bangladesh, qualifying for the National Eligibility cum Entrance Test (NEET-UG) is mandatory. The NEET-UG score is considered during the admission process. Applicants must meet the minimum qualifying criteria set by the Medical Council of India (MCI).
Age Limit: There is typically an age limit for MBBS admission in Bangladesh. Applicants must be within the prescribed age range, which is usually 17 to 25 years. The age limit may vary slightly among universities. It is important to review the specific age requirements of the universities you wish to apply to.
English Language Proficiency: Since the medium of instruction in most medical universities in Bangladesh is English, applicants must demonstrate proficiency in the English language. This can be done through standardized language tests such as IELTS or TOEFL. Some universities may also conduct their own English language proficiency tests.
Valid Passport: International students, including Indian students, must possess a valid passport before applying for MBBS admission in Bangladesh. The passport should have a minimum validity of six months from the date of application.
It's important to note that the eligibility criteria may vary slightly among different medical universities in Bangladesh. Some universities may have additional requirements or specific criteria for admission. Therefore, it is advisable to thoroughly review the eligibility criteria of the universities you are interested in and ensure that you meet all the requirements.
Fortune Education, as an authorized education consultant, can assist you in understanding and meeting the eligibility criteria for MBBS admission in Bangladesh. Our experienced consultants stay updated with the admission requirements of various universities and can guide you through the process, ensuring that you fulfill all the necessary criteria.
Aspiring medical professionals who meet the eligibility criteria can seize the opportunity to pursue their MBBS education in Bangladesh. The country offers high-quality medical education, experienced faculty, modern facilities, and a supportive learning environment. By meeting the eligibility criteria and following the admission process, you can embark on a fulfilling journey towards a successful medical career in Bangladesh.
MBBS Abroad: Fees, Admission, Top Universities for Indian Students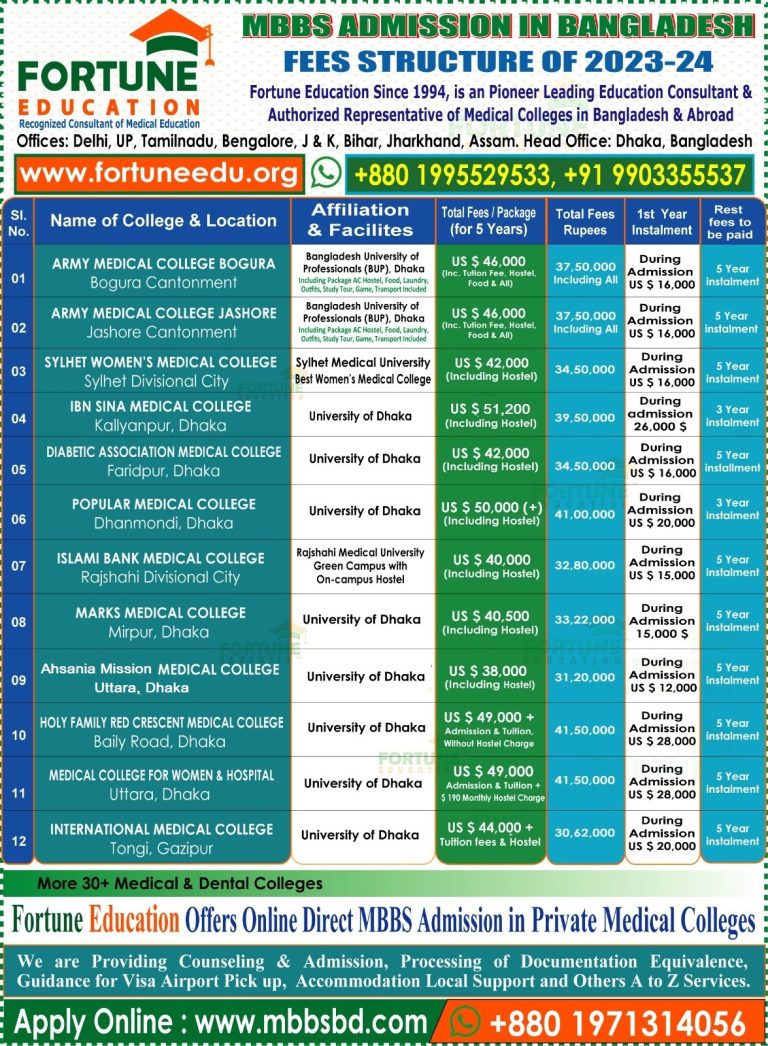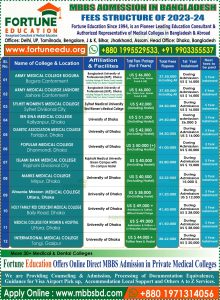 MBBS Abroad, Fees, Admission, Top Universities for Indian Students
Pursuing MBBS abroad has become an increasingly popular choice for Indian students seeking high-quality medical education. It offers access to world-class universities, diverse learning environments, and a global perspective in the field of medicine. Here, we will discuss the fees, admission process, and some of the top universities for Indian students considering MBBS abroad.
The fees for MBBS abroad vary depending on the country and university chosen. It is important to consider not only the tuition fees but also other expenses such as accommodation, living costs, and insurance. In general, the cost of studying MBBS abroad is relatively lower compared to private medical colleges in India. Countries like Russia, China, Ukraine, the Philippines, and Kazakhstan are known for offering affordable MBBS programs. Scholarships and financial aid options may also be available for eligible students, helping to reduce the overall cost of education.
Admission Process for MBBS Abroad
The admission process for MBBS abroad typically involves the following steps:
Research and University Selection: Conduct thorough research on universities offering MBBS programs abroad. Consider factors such as accreditation, curriculum, faculty qualifications, infrastructure, and student support services.
Eligibility Check: Review the eligibility criteria set by the universities. Check the academic qualifications, minimum aggregate score, age limit, and any other specific requirements.
Entrance Exams: Some universities may require applicants to take entrance exams like the Medical College Admission Test (MCAT) or university-specific tests. Prepare for these exams to meet the required scores.
Application Submission: Complete the application form accurately and provide all the necessary documents, including academic transcripts, certificates, passport, photographs, and other specified requirements.
Document Verification: The universities will verify the submitted documents for authenticity and eligibility. Ensure that you provide all the required documents in the prescribed format.
Admission Offer: If selected, you will receive an admission offer from the university. Review the offer letter, including the terms and conditions, before accepting it.
Visa Processing: Apply for a student visa for the respective country. Consult the embassy or consulate for the visa application requirements and procedures. Prepare the necessary documents, including the admission offer letter, passport, photographs, and financial documents.
Travel and Arrival: Make the necessary travel arrangements, including booking flights and accommodation. Inform the university about your arrival details and coordinate with them regarding airport pickup and accommodation arrangements.
Sylhet Medical University: A Premier Destination for Medical Education
Sylhet Medical University, located in Sylhet, Bangladesh, is a premier institution dedicated to providing high-quality medical education and training to aspiring healthcare professionals. Established with the goal of producing competent and compassionate doctors, the university has earned a reputation for its excellence in medical education, state-of-the-art facilities, and experienced faculty members.
Academic Programs and Departments
Sylhet Medical University offers a comprehensive range of academic programs in the field of medicine. The university offers the Bachelor of Medicine and Bachelor of Surgery (MBBS) program, which is a five-year undergraduate program designed to equip students with the knowledge and skills necessary to practice medicine. The curriculum combines theoretical knowledge with practical training, including clinical rotations in affiliated hospitals.
The university is also home to various departments that cover a wide range of medical specialties. These departments include Anatomy, Physiology, Biochemistry, Pharmacology, Pathology, Microbiology, Forensic Medicine, Community Medicine, and more. Each department is equipped with modern laboratories and facilities to support effective teaching and learning.
State-of-the-Art Facilities
Sylhet Medical University boasts state-of-the-art facilities that contribute to a conducive learning environment. The university campus features well-equipped classrooms, modern lecture halls, and spacious auditoriums where students can engage in interactive learning sessions and academic discussions. The library is stocked with a vast collection of medical books, journals, and research papers to facilitate research and self-study.
Top Universities for Indian Students 
Several universities abroad offer excellent MBBS programs for Indian students. Some of the top choices include:
Moscow State Medical University, Russia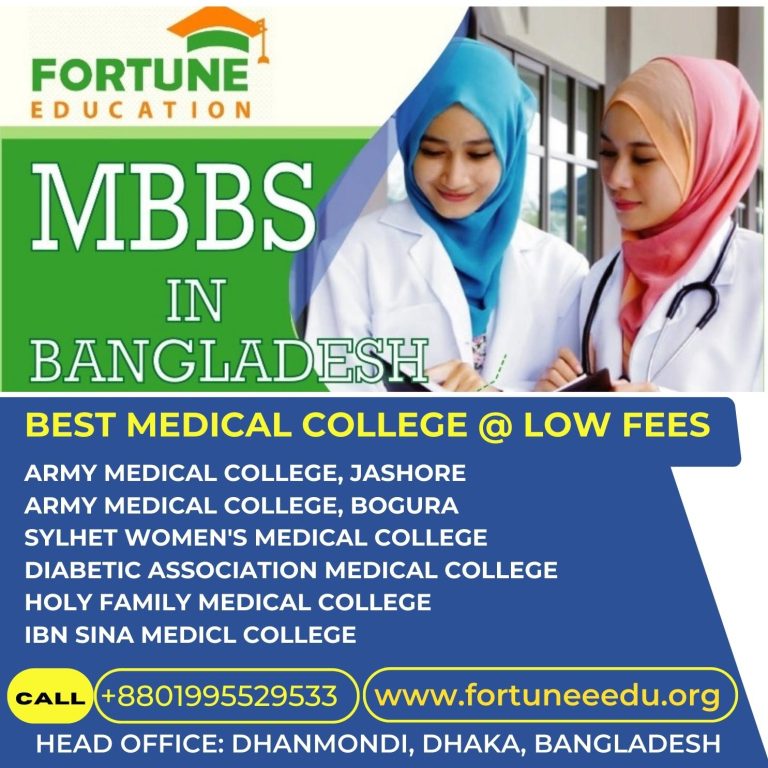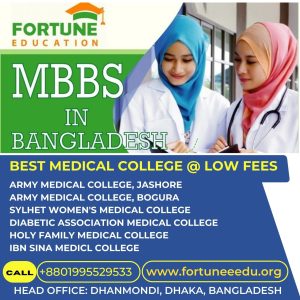 Peking University Health Science Center, China
University of Debrecen, Hungary
Charles University, Czech Republic
University of Santo Tomas, Philippines
Semmelweis University, Hungary
Bogomolets National Medical University, Ukraine
Kazan Federal University, Russia
These universities are renowned for their quality education, experienced faculty, modern infrastructure, and international recognition. They offer a comprehensive curriculum, hands-on clinical training, and a multicultural learning environment that prepares students for a global medical career.
It is important to note that the admission criteria, fees, and other details may vary among universities. It is recommended to research each university thoroughly, review their admission requirements, and seek guidance from authorized education consultants like Fortune Education. They can provide expert assistance in university selection, application submission, documentation, and the overall admission process.
Embarking on an MBBS journey abroad offers a wealth of opportunities for Indian students. It provides exposure to diverse medical practices, cultures, and experiences, shaping