MBBS in Bangladesh 2023–2024MBBS Admission in BangladeshInternational Medical CollegeMBBS in Bangladesh | Study MBBS in Bangladesh | MBBS Admission in Bangladesh
Study in Bangladesh: Discover a World of Opportunities 
Study in Bangladesh
Bangladesh, with its rich history, vibrant culture, and commitment to academic excellence, has become a desirable destination for students seeking high-quality education. It's particularly renowned for its medical education, with a plethora of universities offering internationally recognized MBBS programs. With a learning environment that encourages innovation and creativity, studying in Bangladesh prepares students for successful careers in their chosen fields.
About Bangladesh
Bangladesh, located in South Asia, is known for its lush greenery, beautiful landscapes, and vibrant culture. It's a country rich in history and tradition, offering a fascinating blend of architectural wonders, historical landmarks, and colorful festivals that reflect its cultural diversity.
Bangladesh is also noted for its warm hospitality. The locals are friendly and welcoming, making international students feel right at home. The country offers a safe and secure environment, ensuring a comfortable stay for students.
Education System in Bangladesh
The education system in Bangladesh has seen significant development over the years. It comprises primary, secondary, and tertiary levels, with a strong emphasis on higher education. The medium of instruction in most universities is English, making it easier for international students to adapt.
The country is particularly acclaimed for its medical education. Universities and colleges in Bangladesh offer MBBS programs that adhere to international standards. The curriculum is regularly updated to incorporate the latest developments in the medical field, ensuring students receive a comprehensive and relevant education.
Medical Colleges and Universities
Bangladesh boasts a number of esteemed medical colleges and universities. These institutions offer top-notch education facilities, including modern classrooms, well-equipped laboratories, and extensive libraries. The faculty comprises experienced professionals who are experts in their respective fields.
Institutions such as the University of Dhaka, Bangladesh Medical College, and Dhaka National Medical College are recognized for their MBBS programs. These programs are approved by the World Health Organization (WHO), the Medical Council of India (MCI), and other global medical bodies, making the degree internationally recognized.
Private Medical Colleges and Other Institutes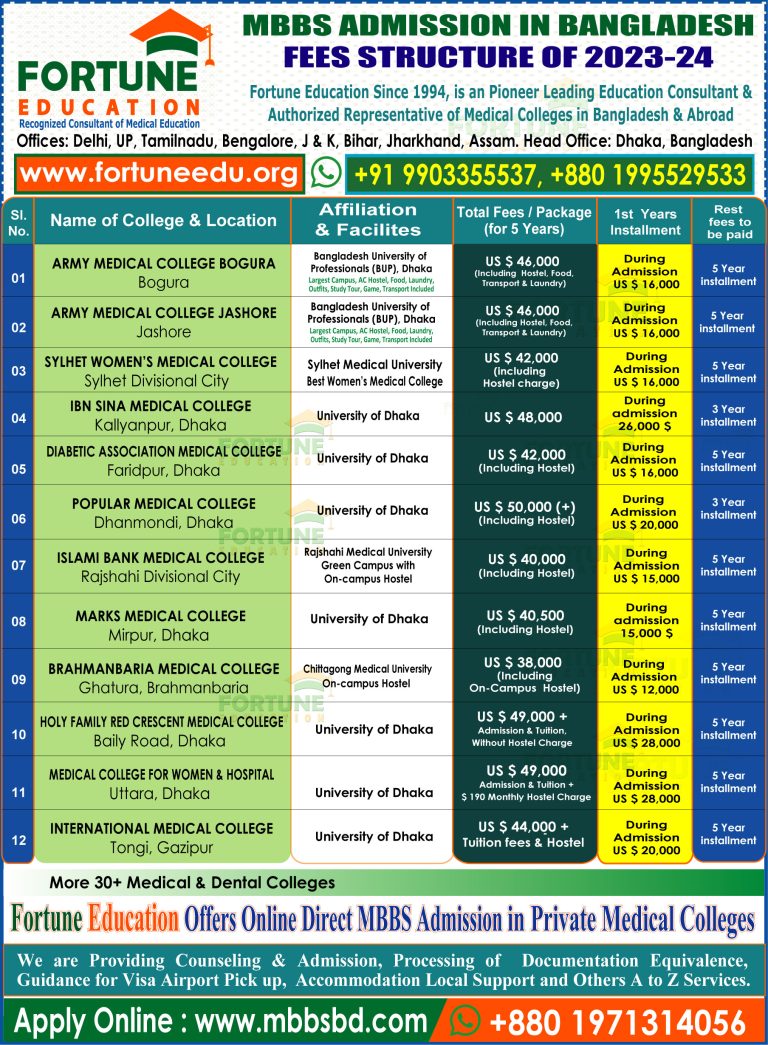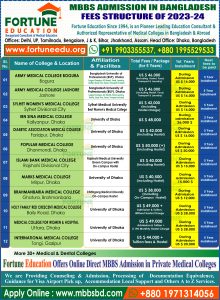 Alongside public universities, private medical colleges in Bangladesh have gained recognition for their high academic standards and excellent facilities. These institutions provide quality medical education at affordable prices.
Some prominent private medical colleges include the East West Medical College, North Bengal Medical College, and Jahurul Islam Medical College. Apart from medical colleges, Bangladesh also houses numerous institutes offering courses in engineering, business, arts, and sciences.
Admission Criteria
Admission to Bangladeshi universities requires students to meet specific eligibility criteria. For medical programs, students need to have a minimum aggregate score in Physics, Chemistry, and Biology in their 10+2 or equivalent. They also need to qualify the NEET exam, as per MCI guidelines.
Students must complete the application process, which includes filling out the application form and submitting necessary documents. These typically include academic certificates, transcripts, passport copies, and NEET scores.
Fortune Education
Authorized Education Consultant
Securing admission in a foreign university can be a complex process. This is where Fortune Education steps in. As a leading education consultant, we guide students throughout their journey to studying in Bangladesh.
Our services are comprehensive, covering university selection, document preparation, application submission, visa process, accommodation arrangements, and post-admission support. Our team of experienced consultants provides personalized guidance, ensuring each student's requirements and aspirations are catered to.
With Fortune Education, your dream of studying in Bangladesh becomes a hassle-free reality. Trust us to guide you on your path to academic success in this vibrant and welcoming country.
Life in Bangladesh: Embrace Diversity and Culture
Living and studying in Bangladesh is an experience unlike any other. The country offers a culturally diverse environment that enriches the student life experience. From bustling cities to serene landscapes, there's something for everyone in Bangladesh.
Students will find plenty to explore in their free time. The country offers an array of attractions, including historical landmarks, cultural festivals, local markets, and culinary delights. Bangladeshi cuisine is a gastronomical adventure, boasting a variety of dishes that reflect the country's rich cultural history.
Safety is a top priority in Bangladesh. The local communities are friendly and welcoming, and universities ensure a secure environment for all students. As a result, students can focus on their studies and personal growth without any concerns.
Academic Excellence: Achieve Your Ambitions
Academic excellence is a cornerstone of Bangladeshi education. The universities are equipped with modern facilities to support students' learning journeys, such as advanced laboratories, digital libraries, and interactive classrooms.
The faculty is a mix of experienced academicians and industry professionals who bring a wealth of knowledge and expertise. They guide students not just in academics but also in developing critical thinking, problem-solving skills, and leadership qualities.
One of the key highlights of studying in Bangladesh is the emphasis on practical learning. Especially in medical education, students are given ample opportunities for hands-on training, internships, and research projects. This focus on practical skills ensures students are well-prepared for their future careers.
Affordability: Quality Education Within Reach
Studying in Bangladesh offers the advantage of quality education at affordable costs. The tuition fees for various programs, particularly for MBBS, are comparatively lower than in many other countries offering similar courses.
Besides, the cost of living in Bangladesh is also lower. From accommodation to food and transportation, students can manage their day-to-day expenses comfortably within a modest budget. This affordability factor makes Bangladesh an attractive destination for students from all economic backgrounds.
Your Partner in Success
Choosing the right university and navigating the admission process can be a daunting task. That's where Fortune Education comes into the picture. As an authorized education consultant, we assist you at every step of your journey.
Our services are designed to make the admission process seamless and hassle-free. We provide complete assistance, right from selecting the right university to handling the application process, arranging for visas, and even helping with accommodation.
Our team of experienced consultants is always ready to address any queries or concerns. They provide personalized guidance based on each student's aspirations and career goals. With Fortune Education, you're not just a client but a valued partner in the journey towards academic and career success.
Conclusion: Seize Your Opportunity with Fortune Education
Studying in Bangladesh is an opportunity to gain quality education, experience a new culture, and prepare for a successful career. With a range of globally recognized universities, excellent living conditions, and affordable costs, Bangladesh stands out as a top choice for students from around the globe.
Fortune Education is committed to making your dream of studying in Bangladesh a reality. Our comprehensive services, personalized guidance, and continuous support ensure that your journey to studying in Bangladesh is smooth and enjoyable. Choose Fortune Education, your trusted partner, and take the first step towards a promising future.