MBBS Admission in Bangladesh for the academic year 2023-24
September 14, 2021

Posted by:

study mbbs in bangladesh

Category:

Medical Colleges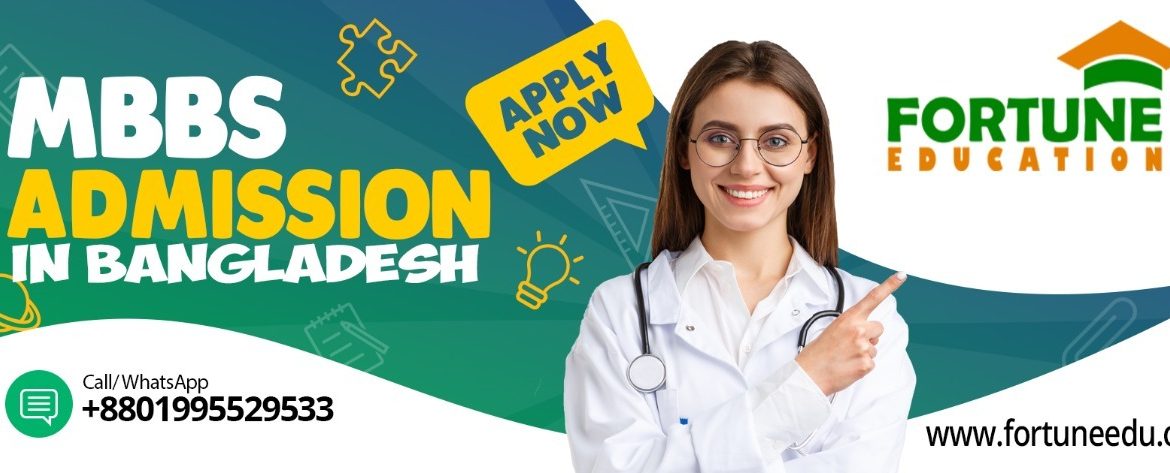 MBBS Admission in Bangladesh for the academic year 2023-24
NEW DELHI, Sept. 14, 2021 /PRNewswire/ — Fortune Education, established in 2004, is the pioneer and leading educational consultant, providing counseling to prospective students who would be interested in MBBS and considering higher education opportunities in Bangladesh and Abroad.
An authorized representative of Medical, Dental colleges and private universities all over the world, Fortune Education offers MBBS, BDS & others' admission, application, guidance, documentation, and other required services such as scholarships (up to 4000$) to eligible students regarding medical and higher studies.
Dream Careers Consultancy (SUBSIDIARY OF Fortune Education) invites students to register for MBBS & various academic programs for the academic year 2021-22. The registration for the MBBS, BDS & other courses has already been initiated through online as well as offline mode. Aspirants looking for MBBS studies from top-ranked medical colleges in Bangladesh should apply before the deadline.
The list of Medical colleges offered by Fortune Education
Sylhet Women's Medical College
Diabetic Association Medical Collage
International Medical College
Brahmanbaria Medical College
Islami Bank Medical College
MARKS Medical College
Holy Family Red Crescent Medical CollegeAnd more than 50+ medical colleges
To apply for MBBS admission in Bangladesh for the academic year 2023-24, you need to meet the eligibility criteria set by the Bangladesh Medical and Dental Council (BMDC) and the requirements of the institution you wish to apply to.
The general eligibility criteria for MBBS admission in Bangladesh are as follows:
You must have completed 10+2 or equivalent examination with a minimum GPA of 9.0 (with a GPA of 3.5 in Biology) from a recognized board.
You must have studied Biology, Chemistry, and Physics as compulsory subjects in your 10+2 or equivalent examination.
You must have obtained a minimum of 60% marks in your 10+2 or equivalent examination.
You must have a valid passport.
The admission process for MBBS in Bangladesh usually starts in June or July and involves the following steps:
Fill out the application form for the institution you wish to apply to.
Submit the required documents, including your academic transcripts, passport, and other supporting documents.
Pay the application fee.
Attend the admission test/interview (if required).
If you are interested in studying MBBS in Bangladesh and need further guidance, you can contact the Fortune Education for more information.
Apply online for application/registration: https://www.mbbsbd.com/application-for-admission/
The candidates must check the eligibility criteria before applying through the online mode.
The eligibility criteria for MBBS courses in different disciplines:
A candidate who has passed 10 + 2 pattern examinations with Physics, Chemistry, and Biology as compulsory subjects will be eligible.
Achieved minimum 60% marks,
Qualified for the NEET exam, is eligible to pursue an undergraduate degree in MBBS.
Candidates' maximum study gap of 2 years accepted after 10+2.
For more details, contact us, apply online or visit one of our authorized centers:
Visit to our websites: – 
About Fortune Education 
As our CEO, Md Shah Alam believes, in these times when we must stay close yet physically distant, irrespective of which students Carrier are always concern and getting their carrier guide is now so simple with FORTUNE EDUCATION. Their vision, mission and values are to leverage that our team's core potential towards serving students in the best possible way.
And for this, they are constantly innovating to deliver the best they can do to evolve and revolutionize in the arena of Education Sector. So, they urge to continue trusting our team for what they strongly believe in "We provide the best consultant service that builds the students carrier and keep the parent happy" and that they delve deeply on the concept of "Our student's success story is our success stories".
Follow us for our day to day update
Facebook : https://www.facebook.com/mbbsinbangladeshfortune
Twitter :  https://twitter.com/FortuneEducati7
You tube : https://www.youtube.com/channel/UCCDhCfpcpL8_xjJVbc0PxCg
Media Contact :
Md Shah Alam
+8801995529533 / +91-9903355537
C.E.O, Fortune Education
This article was Originally Published on IndiaToday
(Online /Direct Admission & Seat Confirmation)
FOR ADMISSION AND OTHER QUARRIES, CONTACT:
AUTHORIZED REPRESENTATIVE
HEAD OFFICE :
DHAKA, BANGLADESH.
MOBILE & WHATSAPP: +88-01995529533
---
OFFICES IN INDIA:
MOBILE & WHATSAPP: +91-9903355537
WEST BENGAL, MODON MOHON STREET, KOLKATA,
PATNA, BIHAR, DELHI, JAMMU & KASMIR,
HYDERABAD, LUCKNOW, CHENNAI, AND GUWAHATI.