MBBS in Bangladesh 2023 An In-depth Guide for Aspiring Doctors
May 19, 2023

Posted by:

study mbbs in bangladesh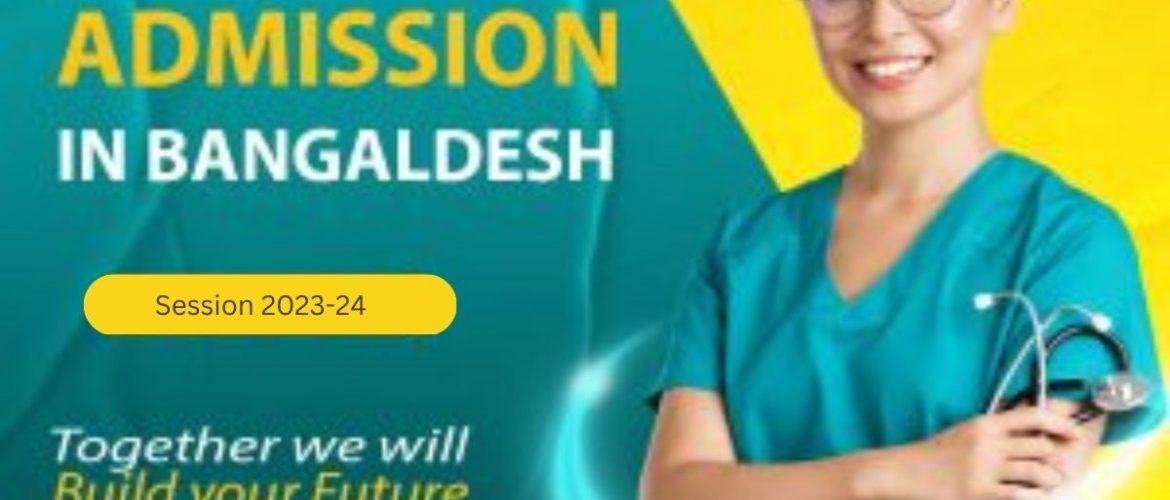 MBBS in Bangladesh 2023 An In-depth Guide for Aspiring Doctors
Year after year, Bangladesh has been skyrocketing in popularity as a sought-after destination for medical education among aspiring doctors, particularly from India. With the rise in demand, the number of globally recognized private medical colleges in Bangladesh has surged, bolstering the nation's stronghold on medical education. What attracts students are the superior quality medical education, affordable fee structure, state-of-the-art infrastructural facilities, comfortable student housing, extensive clinical exposure, and secure campuses.
An impressive number of Indian students, averaging around 5,000 each year, venture to Bangladesh to kickstart their medical careers. With 112 medical colleges and universities across the country, Bangladesh is a thriving hub for over 10,000 Indian students currently pursuing their dream of becoming proficient doctors. The National Medical Commission's recognition of numerous MBBS colleges in Bangladesh has further elevated the prospects for Indian students.
Bangladesh's medical education has always attracted aspiring Indian doctors due to the following:
The country's medical education blends modern teaching techniques, practical training in teaching hospitals, and student participation in international conferences, seminars, and workshops.
The faculty comprises distinguished doctors, scientists, and lecturers.
Laboratories, dissection halls, and museums are well-equipped with the latest technology.
The medical colleges have cutting-edge infrastructural facilities designed with students in mind.
The study pattern and curriculum for MBBS in Bangladesh closely resemble that of India.
Globally recognized medical degrees are awarded to graduates.
Bangladesh boasts the highest FMGE passing percentage.
The medium of instruction is English, making it easy for Indian students.
A host of international events like conferences, seminars, webinars, debates, and symposiums are organized to keep students abreast with the latest medical advancements.
The MBBS fee structure in Bangladesh is affordable for Indian students, typically ranging between INR 25 to 35 lakhs for the entire course.
No need to pay any donations for admission.
No entrance exams like IELTS or TOEFL required.
Comfortable hostel accommodations with canteens and cafeterias are available.
An Indian mess facility is provided at various medical colleges.
Coaching for FMGE/NExT is offered by respected Indian doctors and professors at NMC-recognized medical colleges.
The MBBS course duration in Bangladesh is 5 years plus one year of rotatory internship.
The climate of Bangladesh is similar to India, making it easy for students to adapt.
Extracurricular activities like sports and cultural programs are encouraged at all medical colleges.
Army Medical Colleges in Bangladesh

1. Army Medical College Jashore
Located in the city of Jashore, the Army Medical College (AMC) Jashore is known for its world-class education system, state-of-the-art facilities, and excellent faculty members. The college is part of the Bangladesh Army's initiative to provide high-quality medical education and contribute to the healthcare system of the country.
AMC Jashore follows an updated curriculum as per the Bangladesh Medical and Dental Council (BM&DC) and University of Rajshahi guidelines, maintaining a high academic standard. The teaching hospital affiliated with the college offers a hands-on learning experience, preparing students for their future roles as medical professionals.
2. Army Medical College Bogura
AMC Bogura, in the city of Bogura, is another reputable medical institution under the Bangladesh Army's initiative. It's well-recognized for its quality education, advanced infrastructure, and a team of highly-skilled faculty members.
The college follows the curriculum guided by BM&DC and the University of Rajshahi, focusing on the all-round development of students. The associated hospital provides the students with a practical learning environment, giving them first-hand experience of dealing with patients and understanding the nuances of medical practices.
Official Authorized Representative for International Students
To make the admission process easier for international students, Fortune Education acts as the exclusive official authorized representative for Army Medical College, Jashore, and Army Medical College, Bogura. You can find all the information about admission procedures, fees, facilities, faculty, and more at www.fortuneedu.org.
Fortune Education provides comprehensive support to aspiring medical students, right from their initial inquiry stage, through the entire admission process, and until they are comfortably settled in their respective colleges in Bangladesh.
Students interested in pursuing their MBBS from these colleges can contact Fortune Education for assistance in admissions, VISA processing, accommodations, and more.
Fortune Education ensures that students experience a hassle-free admission process and a comfortable stay throughout their course duration in Bangladesh. With its dedicated services, Fortune Education helps students realize their dream of becoming a doctor from a reputable medical institution in Bangladesh.
The National Medical Commission has outlined specific guidelines for Indian students seeking MBBS admission in Bangladesh. To apply in 2023, students are required to meet the following criteria:
The student's age should be above 17 years as of 31st December in the year of admission.
The student should have an aggregate score of 60% or more in Physics, Chemistry, and Biology (PCB) in 10+2.
The student must have passed the NEET and hold a valid NEET scorecard.
Admission Process for MBBS in Bangladesh 2023-24
The admission procedure for MBBS in Bangladesh 2023 is quite straightforward and involves the following steps:
Fill out the application form for the medical college, including your personal and academic details.
Attach the required documents before submitting the form.
The medical college will send an invitation letter confirming the admission.
Submit your passport along with your visa and other supporting documents.
Pay your first-year tuition fees/admission fees.
Prepare for your travel to Bangladesh.
Fly to Bangladesh.
To successfully complete the admission process, students are required to submit the following documents:
10th marksheet and certificate
11th marksheet
12th marksheet and certificate
University admission form
Visa application form
12 Photographs on matt paper
Original passport
Police clearance certificate
Affidavit (sponsorship)
Bank statement (six months)
University admission letter
University fee confirmation letter
Equivalence certificate (from university)
Equivalence TT copy
University fee TT copy
Demand draft in favor of Bangladesh High Commission
The MBBS fees in Bangladesh for Indian students cover tuition fees, hostel charges, and mess charges. Here are the fees for some of the top medical colleges in Bangladesh for the 2023-24 academic year: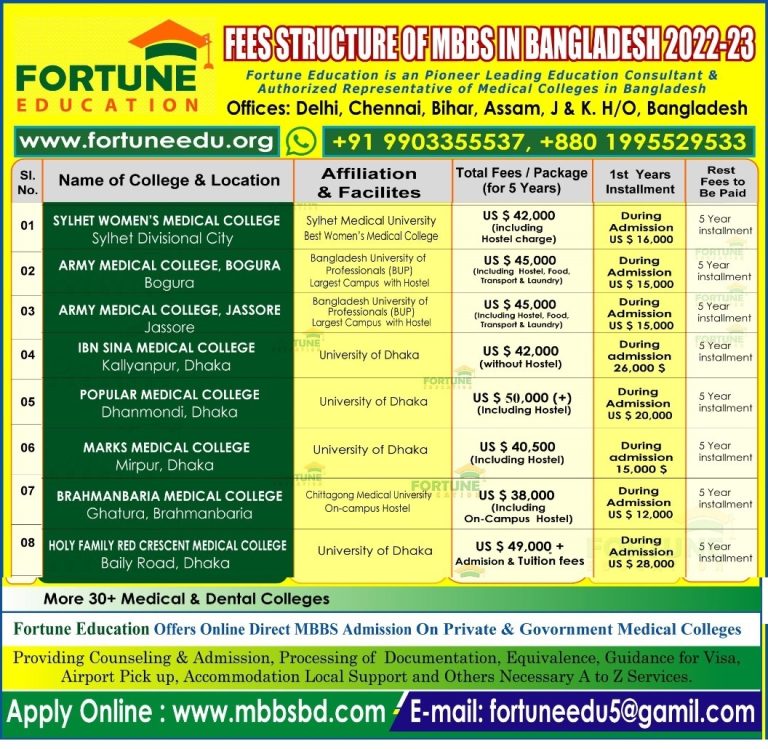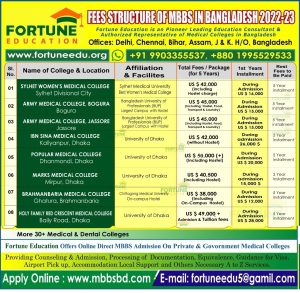 Popular Medical College: INR 43 lakhs
Islami Bank Medical College: INR 33 lakhs
Ahsania Mission Medical College: INR 32 lakhs
Parkview Medical College: INR 38 lakhs
Uttara Women's Medical College: INR 49 lakhs
International Medical College: INR 37 lakhs
Bikrampur Bhuiyan Medical College: INR 37 lakhs
TMSS Medical College: INR 48 lakhs
Dhaka National Medical College: INR 50 lakhs
MARKS Medical College: INR 35 lakhs
Diabetic Medical College: INR 35 lakhs
While there are numerous benefits of studying MBBS in Bangladesh, there can be potential challenges, including language barriers and overcrowding in medical colleges due to its popularity. Despite these, Bangladesh continues to be a preferred destination for Indian students, thanks to its strong focus on continually updating teaching methods, technologies, and infrastructure to maintain its position as a top study abroad destination for medical education.
Fortune Education, as a recognized medical admission consultant, offers online direct MBBS admissions in reputed medical colleges abroad. With their expertise, extensive network, and comprehensive support services, they assist students in fulfilling their dreams of studying medicine and embarking on a successful medical career.
Online /Direct Admission & Seat Confirmation
FORTUNE EDUCATION
Head Office:
23/C, Zigatola, Dhaka, Bangladesh.
Mobile & WhatsApp: +88-01995529533
Offices in India: Delhi, Tamil Nadu, Assam, Jammu & Kashmir
Mobile & WhatsApp: +91-9903355537
www.fortuneedu.org