Study MBBS in Bangladesh | International Student Eligibility
June 7, 2023

Posted by:

study mbbs in bangladesh

Category:

Uncategorized
Studying MBBS in Bangladesh: A Guide for International Students
Study MBBS in Bangladesh | International Student Eligibility
Are you dreaming of a career in medicine? An MBBS degree from Bangladesh can be the key to your future. Bangladesh's MBBS programs are recognized for their affordability and exemplary healthcare facilities, making the nation a prime destination for aspiring medical professionals.
Why Choose an MBBS Degree from Bangladesh
The healthcare education landscape in Bangladesh is renowned in the South Asian region. The country produces approximately 150,000 medical practitioners who serve patients worldwide. Moreover, the MBBS degree from Bangladesh is recognized by the World Health Organization (WHO), further validating its quality and acceptability.
Bangladesh is home to a large number of international students who choose the nation for its medical education and advanced studies. For MBBS programs alone, there are 4,350 government and 6,336 non-government seats available annually.
The cost-effectiveness of studying MBBS in Bangladesh is a significant pull factor. The country hosts numerous prestigious medical colleges offering MBBS programs at relatively low costs. On average, the total expense for a five-year MBBS course ranges from 32-50 lakh. Besides, the cost of living in Bangladesh is also considerably low, adding to the financial viability of studying there.
Graduating from top medical colleges in Bangladesh enhances your skill set, and equips you with a competitive edge in the global healthcare industry.
Eligibility Criteria
Eligibility Criteria for Studying MBBS in Bangladesh
To study MBBS in Bangladesh, international students must fulfill specific criteria. The combined GPA of SSC (or equivalent) and HSC (or equivalent) examinations conducted in the country or abroad should be at least 9. For students belonging to ethnic minority groups and hill districts, the combined GPA should be at least 7 in SSC or equivalent and HSC or equivalent exams.
However, candidates with a GPA less than 3.50 in any examination are not eligible to apply. Additionally, a minimum grade of 3.50 in Biology in the HSC or equivalent exam is a requisite.
Admission Procedure for International MBBS Students in Bangladesh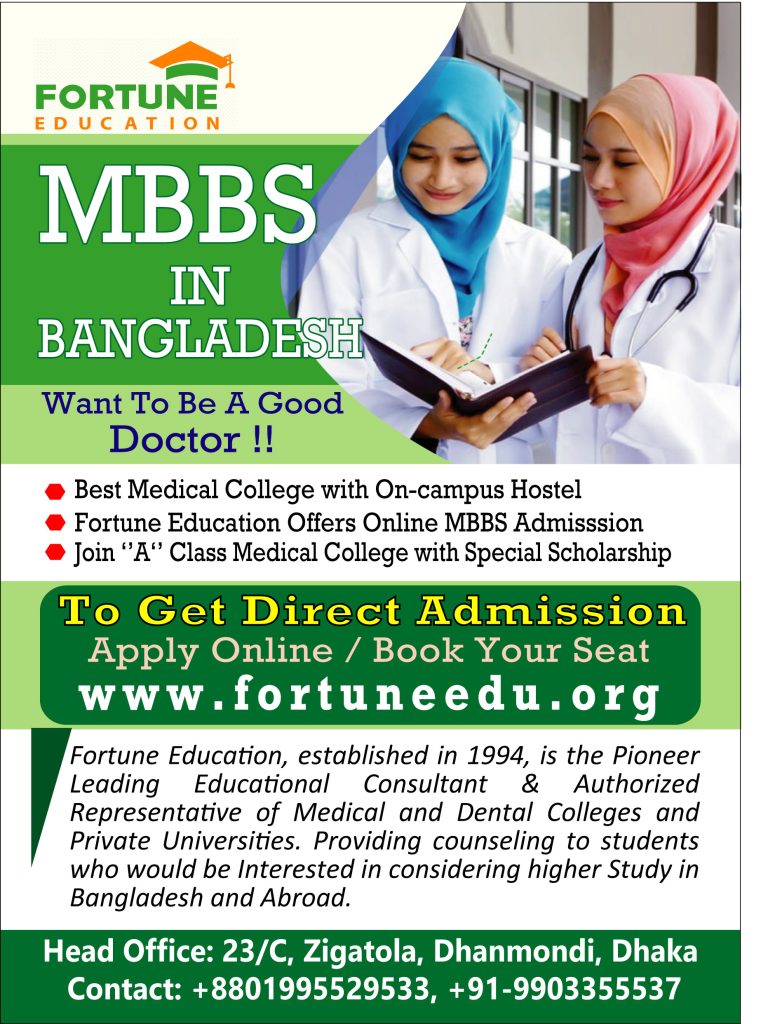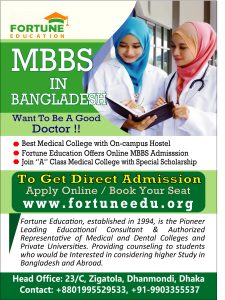 More information about the specific admission procedure for international students interested in an MBBS program in Bangladesh will be added here, highlighting key steps and requirements. Understanding the Admission Process for MBBS in Bangladesh
To ensure a smooth admission experience for MBBS aspirants, it's essential to understand the step-by-step process:
Step 1: Application Submission: Once you have confirmed your eligibility, the first step is to fill out the application form of your chosen university. This typically involves providing detailed personal information, academic details, and other requisite data. Be sure to double-check all information before submission to avoid errors.
Step 2: Documentation: Submit necessary documents such as academic transcripts, eligibility certificates, proof of nationality, passport-sized photographs, and others as requested by the university. These documents are typically scanned and submitted online.
Step 3: Admission Confirmation: After your application is reviewed, the university will issue an admission letter if you meet their criteria. This letter is crucial as it is required for the visa application process.
Step 4: Visa Application: Upon receiving the admission letter, you can apply for a student visa at the Bangladesh Embassy in your home country. The visa application process involves submitting the admission letter, passport, and other necessary documents. It's recommended to start this process well in advance to avoid any last-minute issues.
Step 5: Arrival in Bangladesh: After obtaining the student visa, you can make your travel arrangements. Be sure to inform the university about your arrival date and time so they can assist with your welcome and accommodation.
Step 6: Registration: Upon arrival, you will need to complete the university's registration process. This often includes submitting original copies of your academic documents, signing agreements, and paying tuition fees.
Getting an MBBS degree in Bangladesh can be an enriching and fulfilling experience. In addition to receiving a globally recognized degree, you will also get the opportunity to experience the vibrant culture and warm hospitality of Bangladesh. For any further assistance, consider reaching out to education consultancy services that specialize in MBBS admissions in Bangladesh. They can provide comprehensive guidance and support throughout your admission journey.
Fortune Education, since its inception in 1994, has been a pioneer in providing comprehensive and reliable educational consulting services for medical colleges in Bangladesh. We remain dedicated to our mission of guiding aspiring doctors towards a successful medical career. Visit our official website at www.mbbsbd.online to learn more about our services and embark on your journey towards medical excellence. Fortune Education Since 1994 MBBS Admission Consultant
Medical Colleges in Bangladesh
Army Medical College, Bogura
Army Medical College, Jashore
Sylhet Women's Medical College, Sylhet
Medical Colleges in Bangladesh
Bangladesh has a plethora of medical colleges providing quality education and practical exposure to students. Here's a look at three such notable institutions: Army Medical College, Bogura; Army Medical College, Jashore; and Sylhet Women's Medical College, Sylhet.
Army Medical College Bogura
Established under the aegis of the Bangladesh Army, the Army Medical College, Bogura is a premier institution offering an MBBS program. The college is committed to imparting world-class medical education and producing skilled and competent doctors.
With a blend of theoretical knowledge and practical exposure, the curriculum at Army Medical College, Bogura is in sync with international standards. The college boasts state-of-the-art infrastructure, including well-equipped laboratories, a library with a vast collection of medical books and journals, and comfortable hostels.
Army Medical College Jashore
Like its counterpart in Bogura, Army Medical College, Jashore is a renowned medical college run by the Bangladesh Army. The college offers a robust MBBS program, designed to equip students with the necessary skills and knowledge to excel in the medical field.
The college has a highly qualified and experienced faculty, modern infrastructure, and excellent facilities for practical learning. It also has a multi-disciplinary hospital attached for providing real-time exposure to the students.
Sylhet Women's Medical College, Sylhet
Sylhet Women's Medical College, Sylhet is a prominent medical college dedicated to empowering women in the field of medicine. The college offers an MBBS program, designed with a perfect blend of theoretical knowledge and practical exposure.
The college provides a conducive learning environment, with a focus on the holistic development of the students. It offers excellent infrastructure, including modern laboratories, a comprehensive library, and comfortable hostels.
In conclusion, these medical colleges in Bangladesh offer high-quality medical education at an affordable cost. They are ideal choices for students aspiring to build a successful career in the medical field. To know more about these colleges and the admission process, visit www.mbbsbd.online. Fortune Education is an authorized educational consultant for these medical colleges in Bangladesh, providing all the necessary guidance to aspiring students.
Study MBBS in Bangladesh for Indian Students


Find top MBBS Colleges in Bangladesh
MBBS in Bangladesh for Indian Candidates
MBBS Admission in Bangladesh
Study MBBS in Bangladesh for Indian Students
Studying MBBS in Bangladesh is an excellent opportunity for Indian students looking to pursue a high-quality medical education at an affordable cost. The curriculum in Bangladeshi medical colleges closely aligns with the Indian curriculum, making it easier for Indian students to adapt and excel. Furthermore, the country's geographical proximity and cultural similarity with India make Bangladesh an ideal destination for Indian medical aspirants.
Top MBBS Colleges in Bangladesh
Bangladesh is home to a range of prestigious medical colleges recognized by international bodies like WHO and MCI. Some of these top colleges include:
Dhaka Medical College Dhaka
Chittagong Medical College, Chittagong
Army Medical College Bogura
Army Medical College Jashore
Sylhet Women's Medical College, Sylhet
Rajshahi Medical College, Rajshahi
Fortune Education
WHY CHOOSE FORTUNE EDUCATION
Fortune Education is the best education consultancy for MBBS in Bangladesh. We are Authorized and Exclusive Representative of Top Bangladesh Private Medical College. We are the Local in Bangladesh and so many Branch Office in India. There are so many consultancy in India and Bangladesh, the reason is to why choose Fortune Education:
➤ Offering MBBS Admission @ Top Reputed Medical Colleges in Bangladesh
➤ MCI, WHO, IMED, BMDC and NMC Recognized College
➤ Counseling and On spot direct admission
➤ Processing application for MCI, Equivalence, Documentation and others required
➤ Affordable low fees structure with 100% seat confirmation
➤ Flexible payment policy and 5 years installments facility
➤ Guidance for free Govt. SAARC seats
➤ Scholarship and special waiver
➤ Study loan assistance
➤ We have a trained and highly skilled dedicated team to help our students
➤ Free local guide, Airport Pickup, Drop to College
➤ Providing local guardian during study period
➤ Free Accommodation and Transport facilities for parents during visiting in Bangladesh
➤ 24 Hours 7 Days Support
Fortune Education facilitates the online admission process for aspiring students who wish to pursue MBBS in Bangladesh
Fortune Education
Pioneer & Leading Authorized Representative of Medical Colleges in Bangladesh & Abroad
Head Office: 23/C, Zigatola, Dhaka-1209, Bangladesh
Bangladesh: +8801995529533
India: +919903355537
Email: fortunebangladesh@gmail.com
Website: www.fortuneedu.org, www.mbbsbd.com