Bangladesh MBBS for International Students
October 3, 2023

Posted by:

study mbbs in bangladesh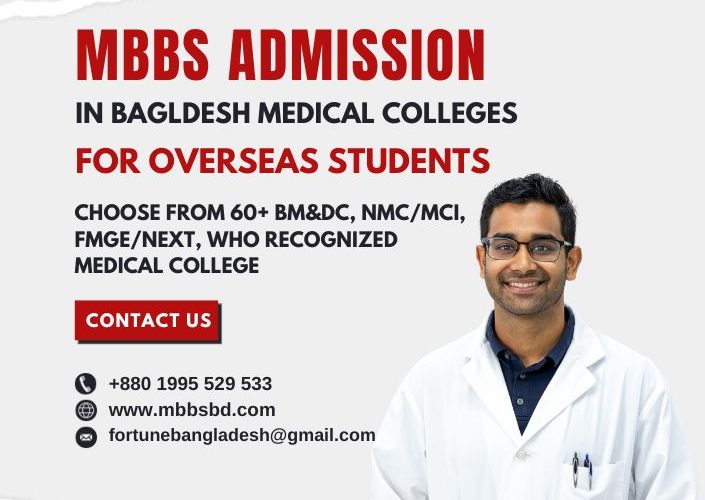 Bangladesh MBBS for International Students: A Comprehensive Guide by Fortune Education
Welcome to the hub of superior medical education in South Asia. Fortune Education proudly presents an opportunity for international students to pursue the Top MBBS Program in Bangladesh. With a legacy of excellence, we are here to reshape your medical aspirations and help you carve a niche in the realm of health sciences.
Why Study MBBS in Bangladesh?
Over the past decade, Bangladesh has emerged as a sought-after destination for medical education. With its blend of theoretical knowledge and practical exposure, the MBBS program in Bangladesh equips students with a robust foundation in the medical field. The curriculum, modeled after leading international institutions, adheres to global standards, ensuring that our graduates are ready to serve anywhere in the world.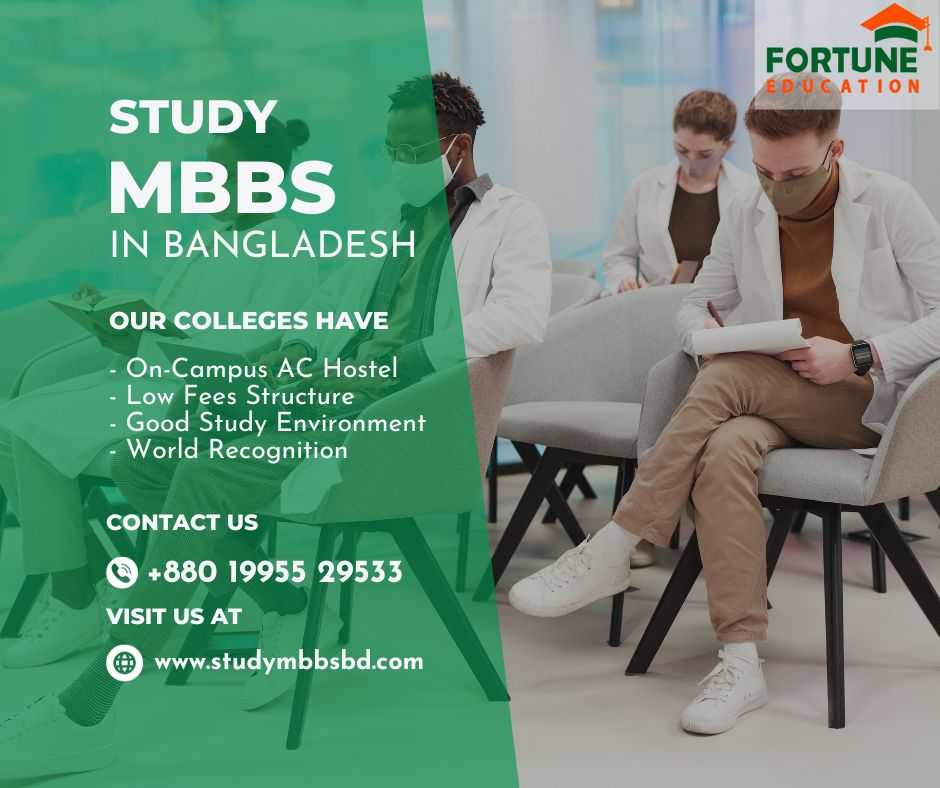 Fortune Education: Your Partner in Medical Aspirations
At Fortune Education, we understand the aspirations of budding medical professionals. Our extensive network with leading medical colleges across Bangladesh enables us to provide you with the best choices. Whether it's the selection process or understanding the nuances of MBBS Admission in Bangladesh, we are with you at every step.
Advantages of the Top MBBS Program in Bangladesh
Internationally Recognized Medical Degree: Graduates from Bangladeshi medical colleges are practicing in top hospitals worldwide, a testament to the quality of Medical Education in Bangladesh.
Affordable Education: Compared to other countries, the cost of studying MBBS in Bangladesh is relatively lower, making it a lucrative choice for international students.
English Medium Curriculum: Catering to a diverse international student population, courses are taught in English, ensuring that language is never a barrier.
On-Campus AC Hostel: We understand the importance of a conducive living environment. Leading medical colleges in Bangladesh provide on-campus AC hostels, ensuring a comfortable stay.
The Online Direct MBBS Admission for 2023-24 is a streamlined process ensuring a hassle-free experience for applicants:
Eligibility Criteria: Aspiring students must have completed 12 years of schooling with a focus on science subjects.
Application: The application can be submitted online, ensuring a seamless process for international students.
Entrance Exam: Some colleges might require an entrance exam. However, many colleges offer Direct Admission in MBBS based on academic records.
Documentation: International students will need to submit certain documents, which will be listed on our website.
Final Selection: Once all formalities are complete, students receive a formal acceptance letter.
Life in Bangladesh: More Than Just Education
While the core focus remains on academic excellence, we at Fortune Education believe in providing a holistic experience. Apart from the top-tier medical education, students get to explore the rich culture, traditions, and vibrancy of Bangladesh.
With the On-Campus AC Hostel, students can seamlessly integrate into the academic environment. Interaction with local students provides a multicultural experience, enriching the educational journey.
MBBS in Bangladesh
Choosing to Study MBBS in Bangladesh is choosing a future of unparalleled medical expertise, rich experiences, and international recognition. With Fortune Education guiding your journey, you're not just choosing a course but a future filled with possibilities.
Embark on this transformative journey with us. Dive deep into the world of medicine, and let's create a healthier future together. Apply now and secure your seat in a leading medical college in Bangladesh.
Remember to incorporate meta tags, alt text for images, and internal linking to optimize the SEO of this content. Regularly updating content based on search trends and user behavior can further enhance its effectiveness.
Why Bangladesh stands out in Medical Education
Bangladesh's medical education system, in recent years, has shown an upward trajectory in terms of quality and infrastructure. Here's what sets Bangladesh apart:
Advanced Medical Curriculum: The MBBS curriculum in Bangladesh is continually updated, incorporating the latest global medical practices and research. This ensures that students gain a modern and relevant education.
Practical Exposure: Medical colleges in Bangladesh place a significant emphasis on clinical rotations, internships, and hands-on experiences. This ensures that students are not just textbook-wise but also possess practical knowledge.
Expert Faculty: Medical colleges here boast a faculty comprising experienced doctors and medical professionals who bring in-depth knowledge and a global perspective to the classroom.
State-of-the-Art Infrastructure: With well-equipped laboratories, modern libraries, and advanced medical tools, students are provided with an environment that is conducive to learning.
Fortune Education: Bridging Dreams and Reality
Fortune Education has been a pioneer in assisting international students in navigating the medical education landscape in Bangladesh. Our team, equipped with insights and a deep understanding of the medical domain, is always ready to assist, be it choosing the right college or understanding the nuances of the admission process.
Bangladesh Medical College Fees for International Students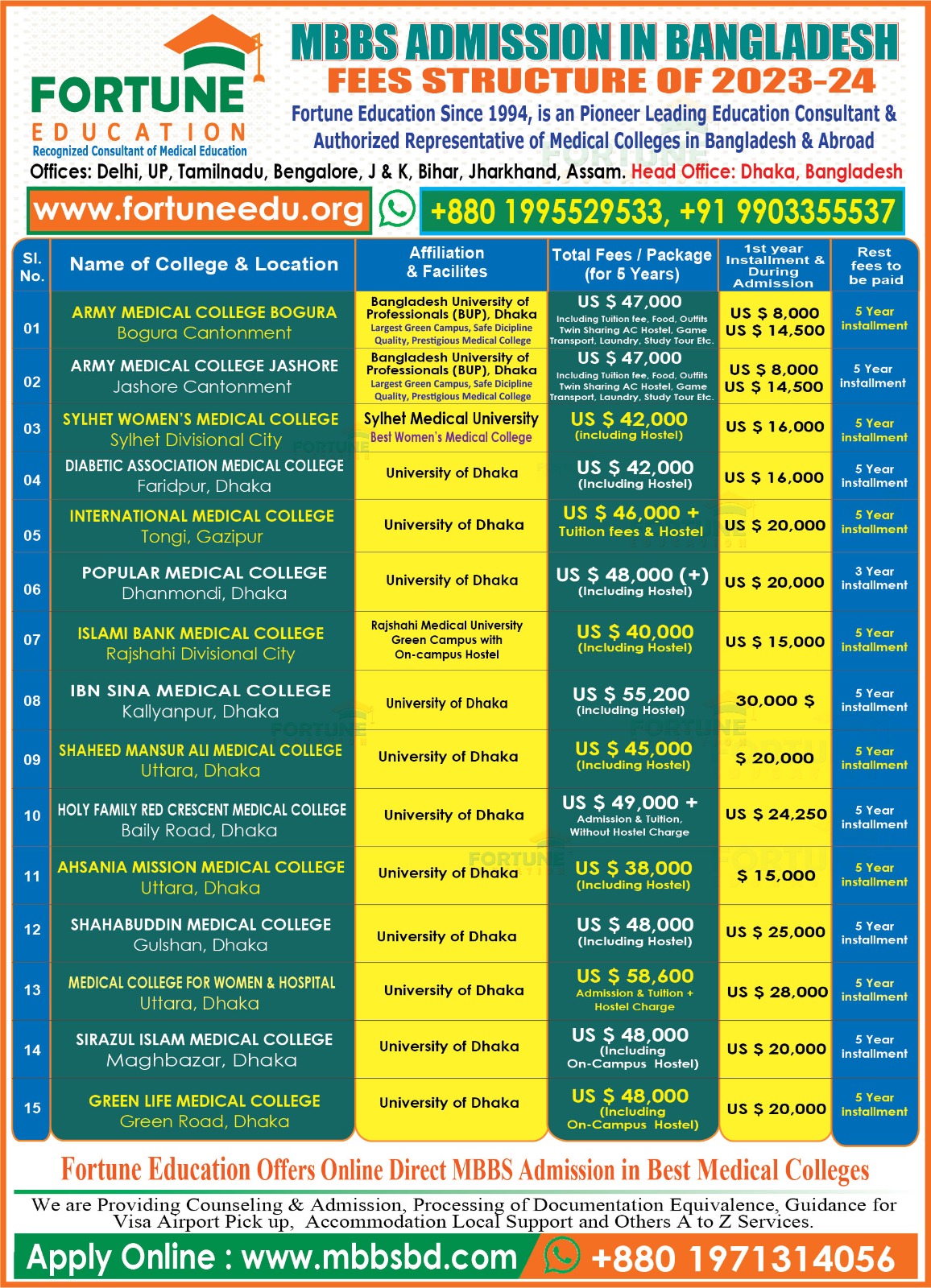 Bangladesh: A Melting Pot of Cultures Beyond academics, Bangladesh offers a rich tapestry of experiences. The country, with its diverse traditions, festivals, and cuisines, offers a unique cultural immersion. International students get the added advantage of experiencing life in a different country, understanding global perspectives, and broadening their horizons.
FAQs on MBBS in Bangladesh
1. Is the MBBS degree from Bangladesh recognized worldwide?
Absolutely! Medical degrees from Bangladesh are recognized by major global medical councils and organizations. Graduates can practice medicine in various parts of the world after clearing the respective country's licensing exams.
2. How does the cost of studying in Bangladesh compare to other countries?
MBBS in Bangladesh is much more affordable when compared to Western countries or even some Asian countries. This cost-effectiveness, combined with quality education, makes it an attractive destination for international students.
3. What support does Fortune Education provide to international students?
From the initial counseling, application process, visa assistance, to settling in Bangladesh – Fortune Education is with you at every step, ensuring a smooth transition and academic journey.
Take the Leap with Fortune Education
Medical education is a transformative journey, and where you study plays a pivotal role in shaping your future. With Bangladesh offering world-class medical education and Fortune Education as your trusted partner, you're on the path to success.
Online Direct MBBS Admissions for 2023-24 are now open. Don't let this golden opportunity slip by. Enroll now and start your journey towards becoming a globally recognized medical professional.
Fortune Education facilitates the online admission process for aspiring students who wish to pursue MBBS in Bangladesh