Study MBBS in Bangladesh 2023-Why Best
May 19, 2023

Posted by:

study mbbs in bangladesh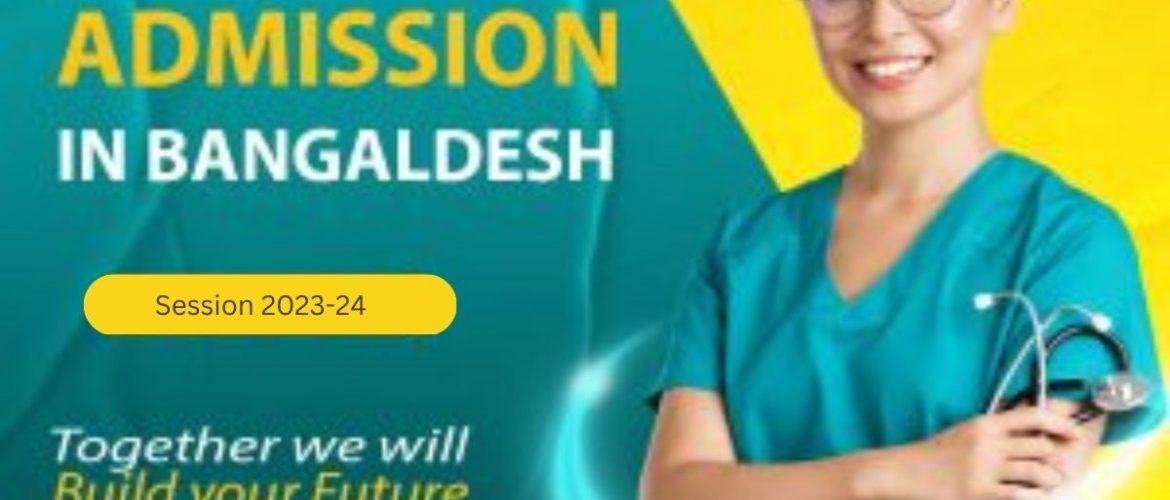 Study MBBS in Bangladesh 2023: Your Gateway to Quality Medical Education
Study MBBS in Bangladesh 2023-Why Best
Explore the opportunities to study MBBS in Bangladesh and embark on a journey towards a promising medical career. Discover the benefits, admission process, and top medical universities. Start your dream medical education today!
Welcome to Fortune Education online comprehensive guide on studying MBBS in Bangladesh! Are you an aspiring medical student looking for high-quality education at an affordable cost? Look no further than Bangladesh, a country renowned for its exceptional medical universities and a rich academic heritage. In this article, we will delve into the benefits of studying MBBS in Bangladesh, the admission process, and introduce you to the top medical universities that provide excellent education to students from around the world.
Why Study MBBS in Bangladesh? – Advantages, Disadvantages, and the Pioneering Role of Fortune Education
The decision of where to study medicine is a crucial one. One of the top-notch options available for international students is the pursuit of an MBBS degree in Bangladesh. Here, we'll delve into the reasons behind this choice, the advantages and potential drawbacks, and the pivotal role played by Fortune Education in paving the way for medical students in Bangladesh.
Studying MBBS in Bangladesh is emerging as a preferred choice for students across the globe. This is due to a multitude of reasons:
Quality of Education: Bangladesh boasts a high standard of education in the field of medicine. The country's medical universities are recognized by international bodies like the World Health Organization (WHO) and Medical Council of India (MCI), ensuring a globally accepted degree.
Affordable Tuition: Compared to many western countries, the cost of education in Bangladesh is relatively low. This affordability, combined with the high quality of education, makes it an attractive destination for many aspiring doctors.
English Medium Instruction: As courses are taught in English, international students face no language barrier in Bangladesh.
Cultural Affinity: For students from neighboring countries like India, the cultural and climatic conditions of Bangladesh are similar, making it easier to adapt and adjust.
Proximity: Its geographical location reduces travel time for students coming from Asian countries, making it a convenient choice.
Advantages of Studying MBBS in Bangladesh
There are several benefits of pursuing an MBBS degree in Bangladesh:
Robust Curriculum: Bangladesh's medical curriculum is on par with global standards. It provides a strong theoretical base coupled with ample practical exposure.
Internationally Recognized Degree: An MBBS degree from Bangladesh is recognized globally, opening up vast opportunities for students worldwide.
No Entrance Exam: Unlike many other countries, Bangladesh does not require international students to sit for an entrance exam, making the admission process easier.
Comfortable Accommodation: Many universities offer hostel facilities to international students, providing a comfortable and secure living environment.
Potential Disadvantages of Studying MBBS in Bangladesh
While studying MBBS in Bangladesh offers numerous benefits, it's important to consider potential drawbacks:
Language Barrier Outside the Classroom: Although the medium of instruction is English, Bengali is the primary language spoken in Bangladesh. This could pose challenges for some international students.
Adjustment to Food and Lifestyle: Students from different cultural backgrounds might need time to adjust to the local food and lifestyle.
Fortune Education https://studymbbsbd.com/ plays an instrumental role as a pioneer and authorized medical education consultant in Bangladesh. They are committed to providing comprehensive guidance to students willing to study MBBS in Bangladesh, including the admission process, visa assistance, accommodation arrangements, and post-admission guidance.
Fortune Education's expert consultants ensure that students and their families are fully aware of the medical education scenario in Bangladesh, assisting students at every step of their journey.
In conclusion, studying MBBS in Bangladesh offers a blend of quality education, affordable fees, and cultural familiarity. While there may be some potential challenges, with the guidance of Fortune Education, students can navigate these hurdles and realize their dream of becoming a doctor.
Why Study MBBS in Bangladesh?
Affordable Education: Studying MBBS in Bangladesh offers a cost-effective alternative for international students without compromising on the quality of education. Tuition fees and living expenses in Bangladesh are significantly lower compared to many other countries.
High-Quality Education: Bangladesh boasts several prestigious medical universities that are recognized globally for their high standards of education. These universities offer state-of-the-art facilities, experienced faculty, and a comprehensive curriculum designed to produce competent medical professionals.
World-Class Infrastructure: The medical universities in Bangladesh are equipped with modern infrastructure and well-equipped laboratories that provide hands-on training to students. The universities have a strong focus on practical learning, ensuring that students gain valuable clinical experience during their studies.
English-Medium Programs: Most medical universities in Bangladesh offer MBBS programs in English, eliminating language barriers for international students. This enables students from different countries to comfortably pursue their medical education and communicate effectively with patients during clinical practice.
International Recognition: Medical degrees obtained from universities in Bangladesh are recognized by renowned international medical bodies such as the World Health Organization (WHO) and the Medical Council of India (MCI). This recognition opens up numerous career opportunities for graduates globally.
Admission Process: To pursue MBBS in Bangladesh, follow these general steps:
Research: Gather information about medical universities in Bangladesh, their admission requirements, eligibility criteria, and application deadlines.
Eligibility: Ensure that you meet the eligibility criteria, including minimum academic qualifications and specific entrance exam scores (if applicable).
Application: Submit your application along with the required documents, such as educational certificates, passport, photographs, and any other documents specified by the university.
Entrance Exam: Some universities may require you to take an entrance exam. Prepare for the exam by studying relevant subjects and practicing sample questions.
Interview: Shortlisted candidates may be called for an interview. Prepare well by researching the university, its curriculum, and recent advancements in the medical field.
Admission Offer: If selected, you will receive an admission offer letter from the university. Review the terms and conditions, pay the required fees, and confirm your acceptance.
Top Medical Universities in Bangladesh: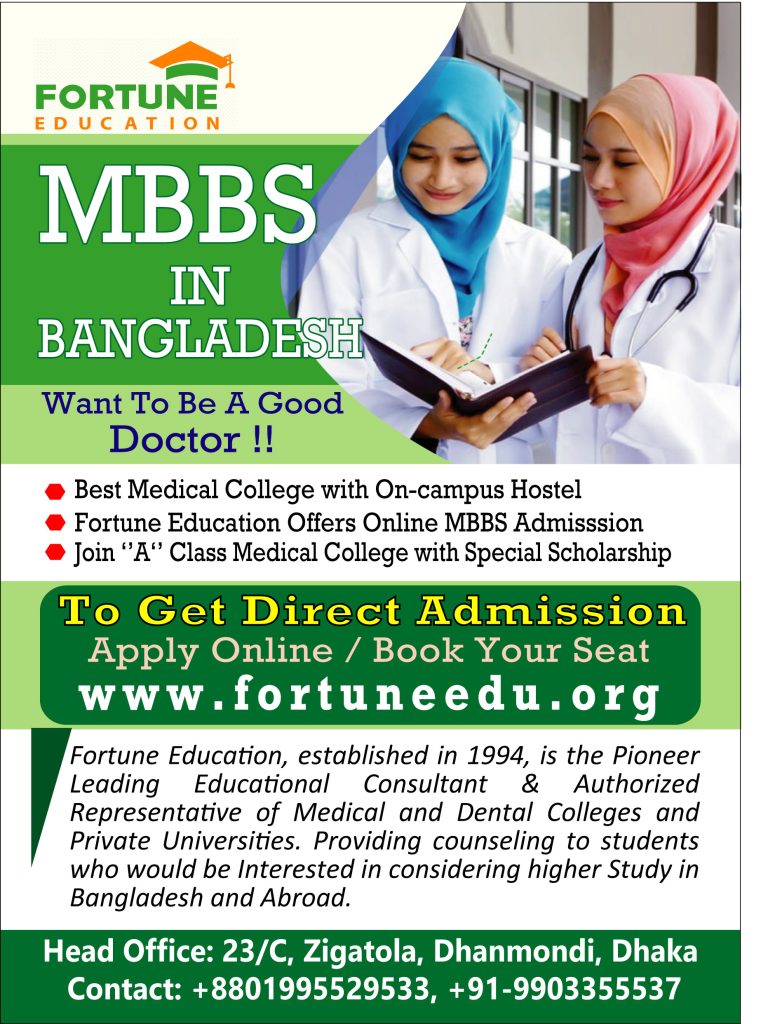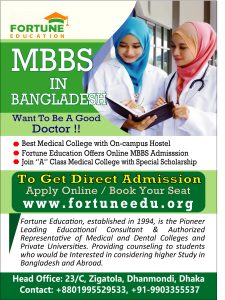 University of Dhaka
Sylhet Medical University
Bangabandhu Sheikh Mujib Medical University
Rajshahi Medical University
Bangladesh University of Professionals (BUP)
Chittagong Medical University
 Sheikh Hasina Medical University
1. University of Dhaka: The University of Dhaka, established in 1921, is one of the oldest and most prestigious institutions of higher education in Bangladesh. With a strong commitment to research, the university offers a wide range of programs across different faculties, including Medicine. The Faculty of Medicine is affiliated with several renowned hospitals for clinical rotations.
2. Sylhet Medical University: Located in Sylhet, this university is known for its rigorous MBBS program. The institution provides students with extensive practical experience, focusing on hands-on learning to complement theoretical knowledge. It offers a well-equipped infrastructure, including a state-of-the-art library and advanced laboratories.
3. Bangabandhu Sheikh Mujib Medical University (BSMMU): BSMMU is the first and only medical university in Bangladesh, offering postgraduate education in Medicine. Named after the founding father of the nation, this institution is renowned for its excellence in teaching, research, and patient care. It offers a wide range of specialized programs in different medical disciplines.
4. Rajshahi Medical University: Situated in Rajshahi, this university is one of the leading institutions for medical education in Bangladesh. Known for its comprehensive and innovative curriculum, Rajshahi Medical University offers students a well-rounded education and substantial clinical experience.
5. Bangladesh University of Professionals (BUP): BUP is a unique institution dedicated to the development of professionals for different sectors, including health services. BUP's Faculty of Medical Studies offers an MBBS program along with other medical and health-related degrees. The university is recognized for its focus on producing professionals who contribute to the country's development.
6. Chittagong Medical University: Located in the port city of Chittagong, this medical university is a hub for medical students in the southeastern part of Bangladesh. It provides a strong foundation in medical sciences along with opportunities for clinical training in associated hospitals.
7. Sheikh Hasina Medical University: Named after the current Prime Minister, Sheikh Hasina Medical University is one of the newest institutions for medical education in Bangladesh. The university is committed to providing high-quality education, fostering research, and serving the community. It is known for its state-of-the-art facilities and experienced faculty members.
Fortune Education, the renowned medical admission consultant, takes pride in offering online direct MBBS admissions to prestigious medical colleges abroad. Their exemplary services, far-reaching network, and unparalleled support have guided numerous students to fulfill their dreams of studying medicine and establishing successful medical careers.
Services Offered by Fortune Education
Fortune Education's extensive range of services ensures a smooth and hassle-free admission process for every aspiring medical student:
1. Personalized Guidance: Understanding the unique needs and aspirations of each student, Fortune Education provides tailored advice to help students choose the best medical college that suits their career goals and financial resources.
2. Admission Assistance: From filling out application forms to securing admission offers, Fortune Education provides step-by-step guidance to simplify the admission process.
3. Document Verification and Submission: They verify, compile, and submit all necessary documents in the required format, minimizing errors or delays in the admission process.
4. Visa Assistance: Fortune Education helps students obtain their student visas, guiding them through the application process and ensuring accurate and timely submission of all required documentation.
5. Accommodation and Travel Assistance: The consultancy assists students in finding secure and affordable accommodation and makes travel arrangements, including airport pick-ups.
6. Pre-Departure Orientation: Students receive a comprehensive pre-departure orientation to understand the culture, lifestyle, and academic expectations of their chosen country.
7. Post-Arrival Support: Fortune Education remains connected with students even after they reach their host country, providing support to adjust to their new environment and addressing any concerns that may arise during their studies.
In 2023, Fortune Education continues its services by providing online/direct admission and seat confirmation. They offer complete information on the MBBS in Bangladesh Fees Structure for 2023, ensuring transparency in financial aspects.
Contact Details
Head Office: 23/C, Zigatola, Dhaka, Bangladesh. Mobile & WhatsApp: +88-01995529533
Offices in India: Delhi, Tamil Nadu, Assam, Jammu & Kashmir Mobile & WhatsApp: +91-9903355537
For more information, visit www.fortuneedu.org. With Fortune Education, every aspiring doctor is one step closer to their dreams. Choose Fortune Education for a seamless admission experience to top medical colleges abroad.